Ahead of India vs Pakistan clash, man arrested for sending email threatening attack on Narendra Modi Stadium
Ahead of the ODI World Cup 2023 clash between India and Pakistan on October 14, the Ahmedabad crime branch has arrested a man for allegedly sending an email threatening attack on the Narendra Modi Stadium in the city.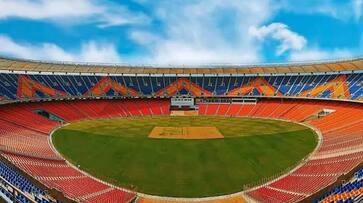 In a concerning development, the Ahmedabad crime branch has taken into custody an individual accused of sending a threatening email regarding a potential attack on the Narendra Modi Stadium in the city. This incident comes to light as preparations for a significant India-Pakistan ODI World Cup 2023 cricket match at the venue are underway.
The arrested individual, who reportedly lacks any prior criminal record, was apprehended in Rajkot, Gujarat. The Narendra Modi Stadium is currently hosting matches as part of the ongoing cricket World Cup, and the India-Pakistan cricket clash is scheduled for October 14.
The nature of the email threat pertains to a possible blast at the stadium, as confirmed by an official, although further details remain undisclosed. The accused, hailing from Madhya Pradesh, had sent the threatening email using his own name.
It's worth noting that the security measures for the India-Pakistan World Cup cricket match have been significantly heightened by the Ahmedabad police. The highly anticipated cricket match between the two neighboring countries is expected to draw a massive crowd.
To ensure safety and security, more than 11,000 personnel from various agencies, including the Gujarat Police, NSG (National Security Guard), RAF (Rapid Action Force), and home guards, will be deployed in Ahmedabad and at the Narendra Modi Stadium during the India-Pakistan cricket match on October 14. This robust security arrangement aims to prevent any potential threats and ensure a safe and enjoyable sporting event for spectators.
Last Updated Oct 11, 2023, 11:55 AM IST