Aerial Policing: Rising to the occasion to take advantage of altitude and technology
From managing crowds to tracking criminals to killing terrorists to reducing personnel dependency and even identifying potential crime, advancements in technology have made this list of advantages of using UAVs in aerial policing endless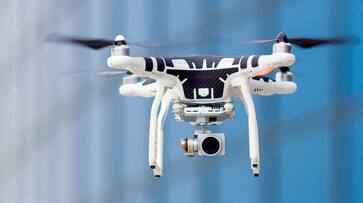 Policing is about monitoring the activities of people to protect them and to enforce law. The world has moved a long way from the baton-wielding policeman with advanced electronic sensors and fast data transmission making it possible for early detection and quick response to curb crime. Prime Minister Modi's National Smart Cities Mission for converting 100 Indian Cities into 'Smart Cities', of the future are to use modern digital technologies to enhance performance and well-being, and also ensure law compliance. Many countries have created 'Smart Cities'. Policing from the air though is initially cost intensive, in the long run it scores heavily over other forms of surveillance like phone, cyber, CCTV camera, and even helps enhance their ability through wider connectivity and footprint.
Policing Tasks and Challenges
Policing involves law enforcement, protecting property and prevention of disorder to allow citizens to live in peace and tranquillity. Currently police have a huge task enforcing Covid related restrictions. Police have to also routinely monitor large political gatherings, shut-down calls, sit-down protests, provide VIP protection, and crowd control religious gatherings of Kumbh Mela kind. They also have additional tasks like monitoring personal arms ownership and misuse, bomb disposal, crash investigation, homicide, fraud etc. Terrorists could even use a small boat or an Unmanned Aerial Vehicle (UAV) to arrive/attack. Prevention is the primary aim. Three critical elements to achieve this are surveillance, quick response and control. Departments like military, railways, and forests etc. have their own police forces. Police require modern equipment for surveillance, secure quick communications, and rapid deployment means.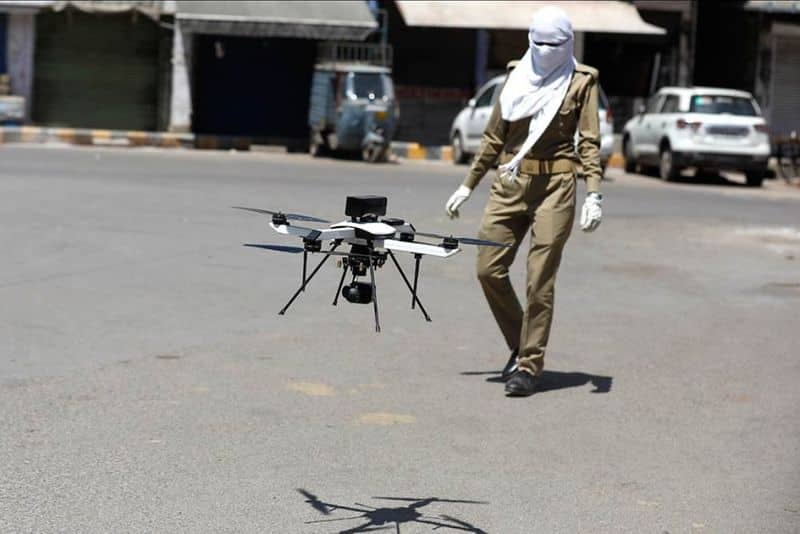 Picture Credit: Outlook
Enabling Technologies
Some of the enabling new technologies for policing include smart phones, RFIDs (Radio-frequency identification), Infra-Red and visual cameras, Cloud based internet services, robots, radars, and host of other sensors. US Defence Advanced Research Projects Agency (DARPA) is funding a research project to automate connecting all sensors through satellite or airborne links to a centralised monitoring centre. Individuals and vehicles would be tracked autonomously, and the computer software would predict suspicious movements. Software for facial recognition and tracking is already in place. DNA and biometric profiling are being used to store individual data. The same is linked to operation centres through airborne/satellite data links. Facial thermographs that will allow machines to ascertain emotions such as stress/fear/nervousness will be able to track possible mischief. The Satellite based maps and Global Positioning System (GPS) has made great contributions to tracking vehicles and individuals including prisoners on parole. UAVs are being used for domestic policing in Canada and the United States. Most state police forces in the USA have UAV permits. The US Customs and Border Protection department have been using UAVs since 2005 and have plans to use armed drones. The US FBI owns and uses UAVs for surveillance. Districts in the USA are outsourcing aerial policing platforms on an annual rental basis. Towns are hiring these for peak tourism seasons. Districts with long coastlines, remote rural communities, and dispersed populations with low public accessibility find these to be very cost effective.
Advantage Air
Aerial surveillance uses visual/thermal/radar imagery transmitted live from satellites, helicopters, spy planes, UAVs, and Aerostats, through clouds, rain or fog, in day or night. Advances in UAV and micro drones have allowed aviation to replace the man in many daily chores. Military and police are the biggest beneficiaries. UAVs offer a totally new dimension to policing functions. Long endurance solar powered UAVs could be airborne for days and months. Air refuelling of UAVs is already a reality. Their quick positioning in the air, large ground foot-print and quick mobility allow them to be used for both communications and surveillance. Modern UAVs can also be flown with autonomous control. FAA and ICAO are working towards regulatory clearance for civil operations of UAVs in airways. While the initial UAVs were only for surveillance, later ones are also armed with missiles. Most countries now operate UAVs and several of them make their own. Increasing air traffic implies a need for close regulation of UAVs for law-enforcement. A critical new threat is the decentralised, leaderless, dispersed groups of dissidents, terrorists or extremists. Satellite imagery and micro-UAVs can track and attack such a threat. UAVs not only improve coverage area and response time, they reduce human risk. Mini UAVs are used for monitoring cruelty to animals. Policing uninhabited islands or sparsely populated cities is another area of advantage. UAVs can transport emergency medicines supplies into remote or otherwise inaccessible regions.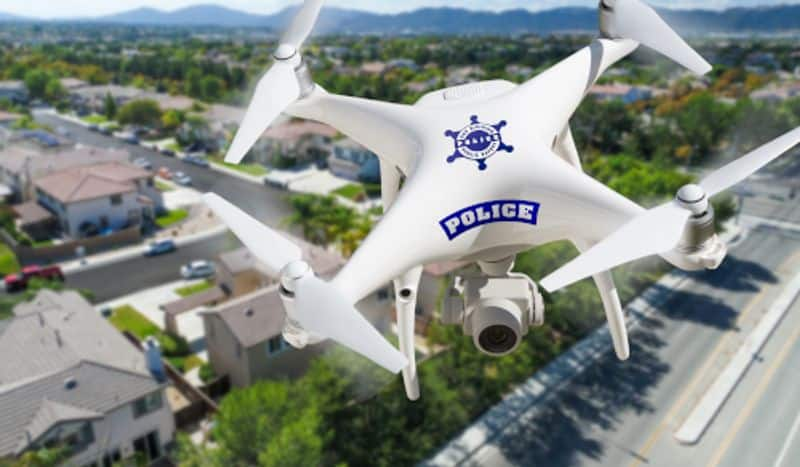 Picture Credit: aquilinedrones.com
Covid Control and Big Events
Police forces across India are deploying a new anti-crime weapon in their armoury, the UAV, to fight the coronavirus. Whether in Nizamuddin, Delhi, where thousands gathered for a religious event, or in Etawah, Uttar Pradesh, police forces are increasingly using UAVs for surveillance and crowd control, and to prevent the build-up. Apart from underwater drones, aerial police and control at the Kumbh Mela is now done using a large number of drones. Drones are being launched over places where police suspects violations of lockdown can occur. "It is a great tool where physical contact is to be avoided or minimised," said Akash Tomar, senior superintendent of police, Etawah district, which has three drones. He said UP Police had used UAVs during the anti-Citizenship Amendment Act protests as well.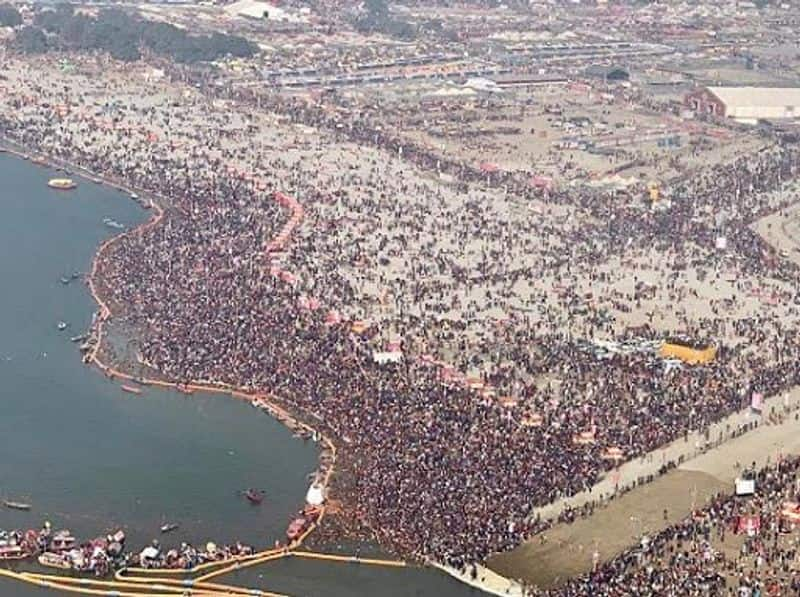 Drone Picture Kumbha Mela. Picture Credit: babushahi.com
Advances in Aerial Policing Systems
The most commonly used UAVs for policing are the tactical UAVs that operate at up to 10,000 feet altitude and have an operating range of 150 km. Also used are hand-held UAVs operating below 2,000 feet and covering short ranges up to 2 km. Micro or Nano UAVs are used for snooping in confined spaces on targeted individuals. Micro drones which are already used by logistics firms to deliver parcels can be used to drop a smoke or tear gas grenade. UAVs are increasingly being used for highway patrolling, flood monitoring, emergency rescue aid delivery, fire and large accident rescue and investigation, earthquake and landslide monitoring, illegal landfill detection, crowd monitoring etc. After the Mumbai attacks, policing the coast, guiding physical positioning of policemen and coordinating the operations are best handled from the air. Tethered aerostats can monitor crowds at big sporting events. Traffic lights on main city arterial roads can actually be operated based on aerial pictures to decongest roads.
 Animal rights activists use radio-controlled quadcopters to track hunters. Wildfire mapping, water and oil pipeline security, home security, road patrol, and anti-piracy are other tasks. US Police caught a car thief using a UAV in 2010. They are being used in Naxal hit areas in India for policing. UAVs have a big role in disaster management both in search and rescue and damage assessment. It can assist a police chase against a speeding runaway criminal. The first targeted UAV terrorist killing took place on 3 November 2002, in Marib, Yemen. Six alleged terrorists were killed in their SUV by the US Air Force using a missile fired from a UAV. Nuclear disasters like Fukushima that restrict human intervention can effectively use drones. Drones were the first to help Japan assess Tsunami damage and support relief operations. Peruvian archaeologists routinely use drones for survey work and protect sites from squatters, builders and miners. UAVs are often used to monitor Japanese whaling ships in the Antarctic. Japan is concerned that China is using UAVs to enforce their claims on unmanned islands. IR cameras allow night vision and also can detect heat footprints. Long queues of trucks at city borders or vehicles at toll plazas can be policed from the air. Water wastage policing, unauthorized tree cutting, pollution monitoring, accident rescue, traffic bottle-neck control, political demonstration monitoring, city-park policing, are some of the other uses of aerial policing. A single UAV can replace thousands of CCTV cameras. They act as great deterrent for civic indiscipline through minimal human intervention. Digital imaging, miniaturisation of computers and sensors, and high-speed datalinks is making aerial surveillance more affordable. Also, large scale procurements are ensuring economies of scale.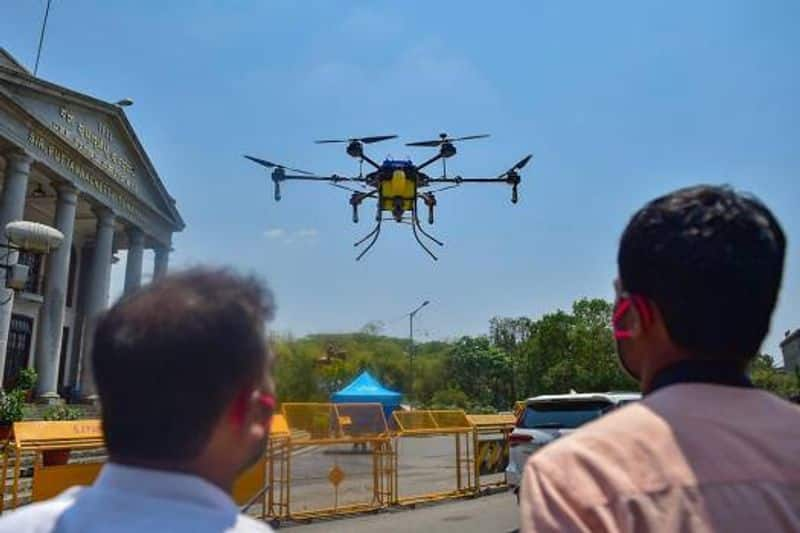 Picture Credit: Outlook
MQ-9 Reaper UAV carries cameras that can identify a milk carton from an altitude of 60,000 feet and has infra-red devices that can detect human body heat from 60 km distance. Micro UAVs like Aeryon Scout have been used to search missing persons. UAVs have been tested as airborne lifeguards, locating distressed swimmers using thermal cameras and dropping life-saving gear to swimmers. MQ-1 Predator UAVs armed with Hellfire air-to-ground missiles were used to assassinate high profile terrorist leaders inside Afghanistan, Pakistan, Yemen and Somalia. On January 3, 2020, a United States drone strike near Baghdad International Airport targeted and killed Iranian Major General Qasem Soleimani of Iran's Islamic Revolutionary Guard Corps (IRGC). FAA approved Draganflyer X6 (heli-UAV) has been used in a wide range of applications including industrial inspection and public safety. A mini handheld system can be launched in minutes. The 4-5kg vehicle could climb up to a kilometre in less than a minute and cruise at 50 kmph.
Risks and Challenges
Any drone-based attack in a civil area has risk of collateral damage and death of innocent civilians. This has been seen in Gaza, Afghanistan and Pakistan. A Brookings institute report indicates that at least ten civilians died for every militant killed in a drone attack. Extensive use of UAVs for policing could be an issue for privacy rights. Unethical police personnel could use some private pictures for blackmail. Civil Aviation rules currently prohibit flying a UAV within 50 meters of a person, however high-resolution cameras could snoop from many kilometres above. Governments could use policing information as a tool against political opponents. Human rights activists who protest against intrusion into privacy are being told "You have zero privacy anyway, just get over it".  Technologies require risk management. UAV sensors or data links could be jammed rendering them ineffective. UAVs could be brought down through hard-kill. Companies world over are developing lasers to damage rogue/enemy UAVs.  There are systems to track and disrupt the control mechanism of small UAVs. Predators and Reapers are tailor-made for counterterrorism operations and in war zones in which the enemy lacks sufficient firepower, to shoot them down, but are not designed to withstand anti-aircraft defences or air-to-air combat. With increase in aviation density, mid-air collision risk needs attention. There have been cases of small drones being ingested in an airliner engine.
International Players
UAVs can have multiple sensors and perform multi-functions. US Homeland Security is allowed to access relevant information from military satellites. Satellites can now detect chemical traces, and even identify objects in buildings. USA and Israel currently dominate 80% of the world's large UAV market. China is the leader in small handheld systems. Northrop Grumman and General Atomics are big US manufacturers. IAI and Elbit of Israel are into UAVs in a big way. French drone-maker Parrot's latest creation is a boat-drone hybrid hydrofoil designed to lift it from the water and then travel through the air with a simple command from a smart-phone app. Hydrofoil will retail for just $179. Hire a drone and crew on a per-use basis is already available. Customers can post the job requirement online. Single seat quadcopters that can carry a policeman/soldier are already in use. Autonomous personal air vehicles are already flying and can carry policemen on aerial reconnaissance.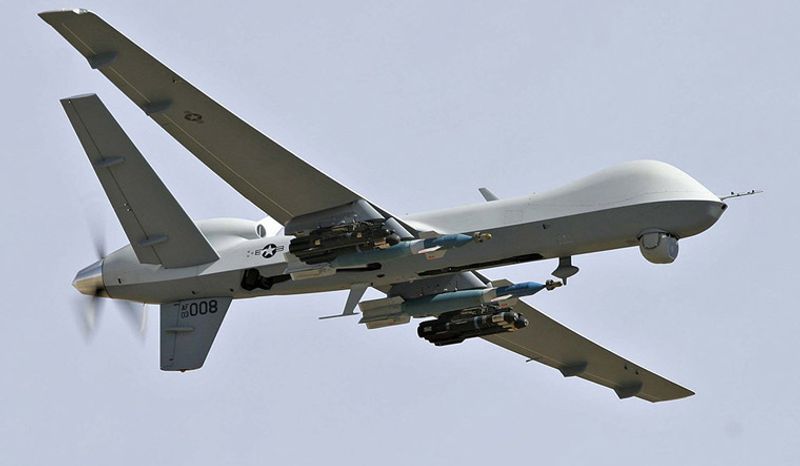 General Atomics MQ-9 Reaper. Picture Credit: US Air Force
The US Air Force currently employs close to 9,000 UAVs, almost a third of all aircraft, and is acquiring more UAVs than manned aircraft and training more drone operators than pilots. They also have significant numbers in policing roles. The upper-end UAVs like the MQ-9 Reaper cost around $12 million vis-à-vis $ 120 million for an F-22. Small cheaper ones could cost just a few thousand dollars. The UAV market is estimated at $19.3 billion in 2019 and is projected to reach $ 45.8 billion by 2025. The US market leaders are Lockheed Martin, General Atomics, Boeing, Northrop Grumman, Draganflyer and AeroVironment. Israeli firms IAI, Aeronautics Defense Systems, Elbit and Rafael advanced Defence Systems hold nearly half the world export market. Other participants are ASN Technologies, BAE Systems, China Aerospace, and Finmeccanica. Like the telecom revolution, India may transit directly from the low paid policeman to a tech savvy airborne patrol. Soon the drone market will exceed 10% of all aviation deals. Air is the ultimate dimension.
Way Forward India
Indian Armed Forces operate nearly 160 mid-sized UAVs mostly of Israeli origin. More are being acquired, including the new "tailored" Predator B Reaper armed UAV for the three services. Additionally, the Indian Army has many hand-held UAVs. Most police departments in India have procured drones. Aerial policing will reduce manpower requirements and also contact of some corrupt policemen with the public. VVIP route sanitisation can be achieved by one-fourth the force. Aviation can relieve India's dismal population-to-police ratio of 150 to every 1,00,000. India also needs to push its 'Make in India' initiative for manufacturing UAVs. Hindustan Aeronautics Limited (HAL), Defence Research and development Organisation DRDO and National Aeronautical laboratory (NAL) Bangalore have developed mini and micro UAVs of 3 kg class. HAL is working on 8-10kg UAVs. But few have reached the users yet. Large number of private players are into UAVs, and they need to be encouraged. Aerial policing is the most effective way of the future. Police forces must acquire more UAVs and use them extensively for various tasks in times to come.
Last Updated May 19, 2020, 4:15 PM IST