'Absolutely astonished by Deve Gowda's lie...' Kerala CM Vijayan after JD-S supremo's claim on tie-up with BJP
Kerala Chief Minister Pinarayi Vijayan strongly denies claims by H.D. Deve Gowda that the Left leader endorsed a JDS-BJP alliance in Karnataka. Vijayan expresses shock at the unfounded allegations and reiterates his commitment to the fight against the Sangh Parivar.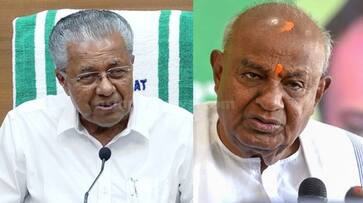 Kerala Chief Minister Pinarayi Vijayan has said that he is absolutely astonished by former Prime Minister and Janata Dal-Secular supremo H D Deve Gowda's remarks that the Left leader had given full concurrence to move forward in Karnataka with the Bharatiya Janata Party to save the party.
Taking to X (formerly Twitter), CM Vijayan said: "I am absolutely astonished by H D Deve Gowda's recent statement! The mere notion that I would even entertain the idea of supporting a JDS-BJP alliance is nothing short of a delusional fantasy. It is utterly disgraceful for a seasoned politician like Deve Gowda to make such unfounded lies. @cpimspeak has been an unwavering and unyielding force in the battle against the Sangh Parivar. There is no room for ambiguity in our stance."
A political controversy ignited in Kerala following H.D. Deve Gowda's statement on October 19, wherein he claimed that the Kerala Chief Minister had sanctioned his party's alliance with the BJP in Karnataka for self-preservation.
Gowda, on that day, asserted that all state units of the JD(S), including those in Tamil Nadu, Kerala, and Maharashtra, had granted their approval to align with the BJP.
"In Kerala, we are part of the government, and our MLA holds a ministerial position. These state units comprehended the situation that compelled us to partner with the BJP and endorsed our decision. Our Minister, Mr. Krishnankutty, in the Left party's government in Kerala, has consented to our alliance," he stated.
Gowda went on to assert, "Kerala's Left government's Chief Minister Pinarayi Vijayan has wholeheartedly endorsed our collaboration with the BJP in Karnataka to safeguard our party. This is our stance."
However, Kerala JD-S leader K. Krishnankutty firmly contradicted Gowda's statement on October 20. Krishnankutty not only opposed the national leadership's alignment with the BJP but also emphasized his state party unit's unwavering commitment to the CPI(M)-led Left Democratic Front (LDF) alliance.
"I met him (Deve Gowda) along with our State president, Mathew T Thomas, MLA, and informed him of our objection to joining the BJP. The state party unit stands by the earlier decision to remain allied with the Left party in Kerala," said Krishnankutty, who also serves as a Minister in the LDF government in Kerala.
The opposition Congress alleged that the JD(S)' revelation indicated a tacit understanding between the ruling CPI(M) and the BJP in Kerala. Congress leader Ramesh Chennithala stated on October 20 that this was further evidenced by Krishnankutty's continued presence in the Kerala Cabinet.
Previously, the Kerala JD-S unit had rejected the central leadership's decision to join the National Democratic Alliance (NDA) and chose to stand firmly with the LDF in the state. This stance was made clear after a state committee meeting held in Kochi on October 7, during which JD(S) Kerala president Mathew T Thomas underscored that the high command's announcement lacked prior discussion within any party forum.
Last Updated Oct 20, 2023, 4:02 PM IST