70-year-old daily wage worker in Kerala donates savings to CMDRF for COVID-19 relief
The contribution of the 70-year-old daily wage worker found a mention by Kerala chief minister Pinarayi Vijayan which made her proud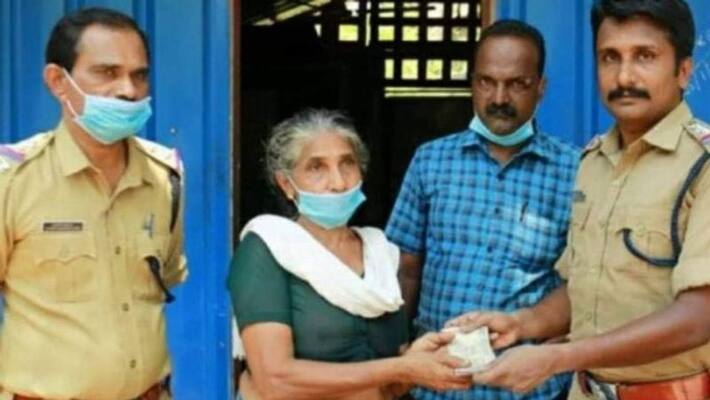 Lalithamma is a daily wage worker near Arinalloor in Thevalakkara Panchayat of Kolam District. She used to work in a cashew factory till 2009. The 70-year-old woman lives in a small one room shed and earns only a meagre sum through her occasional daily wage job availed through Mahatma Gandhi National Rural Employment Guarantee Scheme (MGNREGS). Her only regular earning is the Rs 1200 she gets via pension every month.
However, she saves from whatever she gets and gives away her annual savings for the festival at the nearby Areekkode temple. 
She couldn't make that yearly offering this time since the festival was cancelled due to lockdown restrictions imposed owing to the COVID-19 pandemic. The noble grandmother had no second thoughts, however, while deciding to deposit her savings to the Chief Minister's Distress Relief Fund (CMDRF).
This elderly woman, who doesn't even own a mobile, did not know how to proceed once she decided to donate the money. She then remembered the police announcement vehicle that darts across every day. One day she stopped the vehicle and asked the police official if she could hand over the amount to the person inside. Though the policeman did not directly accept the sum, he promised her to come back soon with a solution.
Two days later, circle inspector Rajesh Kumar and his colleagues came to her house to collect the money. The amount of Rs 5,101 was given to the Disaster Management Funds of the Chief Minister. Later CM Pinarayi Vijayan, in his daily COVID-19 update on Tuesday, mentioned the donation made by Lalithamma.
That exposure was indeed a proud moment for her, and she is happy that she has become a well-known person in the village. Though she has a son, who lives separately with his family, she believes in living independently, and chooses to live alone taking care of herself without depending on anyone.
Last Updated Apr 23, 2020, 6:12 PM IST