3 arrested for 'sar tan se juda' slogans during Eid procession in Uttar Pradesh's Badaun
In Badaun, Uttar Pradesh, three individuals faced police action after they were caught on video raising provocative slogans during a Muslim religious procession on the occasion of Eid-e-Milad Un Nabi, also known as Barawafat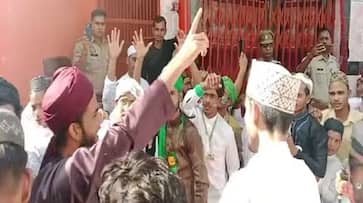 Three persons have been booked by the police in Uttar Pradesh's Badaun after a video showed them raising provocative slogans during a Muslim religious procession on the occasion of Eid-e-Milad Un Nabi or Barawafat in Budaun district of Uttar Pradesh. 
According to the local police, the three accused individuals have been formally booked for their role in inciting provocative slogans during the Julus-e-Mohammadi, a religious procession held on the day of Barawafat. This action was initiated following a complaint filed by Sub-Inspector Ajay Kumar, leading to the registration of an FIR at the Civil Lines Police Station.
A senior police official revealed that the inflammatory slogans were raised during the Julus-e-Mohammadi procession, which took place on a Thursday. The incident gained widespread attention after a video of the event circulated on various social media platforms.
In the viral video, a man can be seen raising provocative slogans during the Eid Juloos, stating, "Gustakh-e-Rasool ki ek hi saza" (One punishment for those who disrespect the Prophet). The crowd responded with, "Sar tan se juda, sar tan se juda" (whoever insults Prophet Mohammad will be beheaded).
Notably, the police were present at the scene during the procession and were capturing video footage. However, what raised eyebrows was the subsequent registration of a case by the police after the videos went viral and drew media criticism.
Superintendent of Police AK Srivastava addressed the matter through a video statement, confirming the arrest of three individuals, including the primary accused, Tajdar, by the Police Station Civil Lines. He further emphasized that local law enforcement is actively conducting raids to apprehend other individuals involved in the incident. The police's extensive efforts are focused on locating and apprehending between 10 to 15 additional suspects.
Last Updated Sep 30, 2023, 12:57 AM IST