Pakistan taps China and Turkey for advanced military drones
Ignoring spiralling debt and the rising cost of imports along with low revenue, Pakistan is in talks with its all-weather friends China and Turkey to acquire advanced drones from them.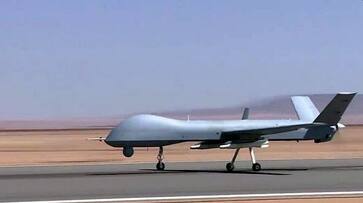 Despite its economic challenges and empty coffers, Pakistan's Imran Khan government has been busy shopping for advanced weapons to strengthen its military forces amid turmoil in its neighbouring country Afghanistan and to create unrest in India's Jammu & Kashmir. 
Ignoring spiralling debt and the rising cost of imports along with low revenue, Pakistan is in talks with its all-weather friends China and Turkey to acquire drones from them. 
Wing Loong-II
As per the intelligence sources, the Pakistan Air Force is acquiring additional two Wing Loong-II Unmanned Aerial Vehicles, one ground control station and other associated equipment worth $44.4 million. 
Developed by China's Chengdu Aircraft Industry Group, the Wing Loong-II is a remotely controlled UAV intended for use as surveillance, aerial reconnaissance and precision strikes. It has long-range strike capability with a satellite link.
As per the defence experts, the drones will enhance Pakistan's capabilities in the backdrop of India buying the Russian S-400 air defence system which is expected to join the service later this year.
Pakistan Air Force has received a commercial proposal from China National Aero-Technology Import & Export Corporation for these drones. CATIC, which is a Chinese representative of the aviation industry in the global market, has agreed to supply the equipment by July 2022. 
Presently, the PAF has 3 Wing Loong-II UAVs in its inventory, acquired in 2020-21 with an AG-300 missile system and has deployed one of them at its western border with Afghanistan. 
As per the sources, the other two are stationed to protect the China-Pakistan Economic Corridor and the People's Liberation Army Navy's new base at Gwadar port.
India will be acquiring 10 US-built MQ-9 Reaper or Predator B armed drones each for its Army, Navy and the Air Force. The Defence Acquisition Council, headed by Defence Minister Rajnath Singh, may take the final call next week about this deal worth $3 billion, a government source said.
Kargu: Turkey's Kamikaze drone
Turkey has been pioneering in armed low-cost unmanned aerial vehicles. The drones have proven their capabilities on the field and have been reshaping the battlefields and geopolitics.
The drones were used in several recent regional conflicts in which they were seen hunting down armoured vehicles and air defence systems with pinpoint accuracy. The drones saw action in Syria, Libya and the war between Armenia and Azerbaijan. 
As per the sources, Pakistan has evinced interest in Turkey's Kamikaze drone 'Kargu'. 
Kargu has a range of 10km and can carry six rockets. One remote station can be used for ten drones at a time. 
Recently, Turkey signed a deal for the export of the Kargu drones. "#Turkey signs the 1st deal to sell its autonomous rotary-wing attack #Kamikaze Drone (#Kargu). The name of the country was undisclosed. The delivery will be in 2021. Kargu can function both as a single platform as well as part of a swarm of up to 20 platforms," Dr Ali Bakir, a Turkey analyst and assistant professor at Ibn Khaldon Center in Qatar University, said in a tweet.
"We are proud to announce that #KARGU is ready for delivery to an export customer. In service with the Turkish Armed Forces for over three years, #KARGU is now ready to support our friends and allies worldwide. #AlwaysOnDuty #STMDefence @SSB_Eng," STM Defense, the maker of Kamikaze drone, said in a tweet
The Kamikaze drones -- also known as suicide drones -- eliminate the enemy through self-destruction. These drones are similar to missiles and carry explosives.
Matrice 300 RTK drone 
Pakistan Army has also received a proposal for the acquisition of DJI's Matrice 300 RTK drone with Zenmuse H20T series quad sensor, payload and enterprise advanced drone. The proposal was forwarded by the Karachi-based tech firm ABM Satuma.
The Matrice 300 RTK features a flight time of up to 55 minutes, support for up to three payloads and six directional sensing and positioning systems simultaneously.
S-250 MUAV trials 
As per the sources, the Pakistan Army is also keen on procuring MUAVs of hybrid specifications. "A team of ABM Satuma has trained 13 Pakistan Army officers," sources said.
Intelligence agencies said that the Pakistan Army has carried out operations of mini unmanned systems, Supercam S-250 at the Muzaffarabad airfield, from July 7-17. It is regarded as among the best unmanned aerial vehicles in terms of tactical and technical characteristics and is suited for border areas.
These Supercam S-250 mini UAVs are being utilised for intelligence, surveillance and reconnaissance exercise. These mini UAVs can be in the air for about three hours and have a range of 150 km.
As per the sources, the trials are being held at Bahawalpur, Turbat and Muzaffarabad from July 26-August 13 
Currently, the Pakistan Army holds five systems of S-250 mini UAVs (1 system means two UAVs). 
Joint Venture in Loitering Munition domain
China's state-run Aerospace Long-March International Trade Co and the Pakistan Army are in talks for collaboration and a joint venture in Research & Development for the deployment of Loitering Munitions including WS-43, CH-901 and ZT-39V. 
Pakistan Army has requested for a visit of its 4-5 members to ALIT China from August 17-22 this year. As per the defence experts, these drones are being procured from China and Turkey by Pakistan to bolster their capabilities against India and Afghanistan.
Last Updated Aug 4, 2021, 7:04 PM IST