Major thrust for LCA, AMCA project; US gives green light to Made in India fighter aircraft engine
The United States has granted all necessary clearances for a joint production of a 110-kilonewton fighter aircraft engine in India. The engine will be used in the Light Combat Aircraft (LCA) Mk 2 and the first two squadrons of the Advanced Medium Combat Aircraft (AMCA).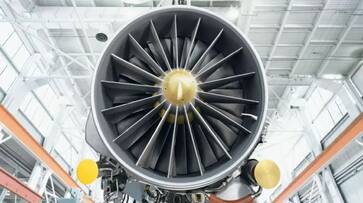 In a significant development, the United States has given all clearances with regard to the fighter aircraft engine programme. The 110-kn (kilonewton) engine will be jointly produced in India. Defence Research and Development Organisation (DRDO) chairman Samir V Kamat has said: "The engines of the light combat aircraft (LCA) Mk 2 and the first two squadrons of the indigenous Advanced Medium Combat Aircraft (AMCA) will be manufactured in the country. It will be jointly produced by the US' GE and India's Hindustan Aeronautics Limited. All the clearances have been received from the US."
In June this year, the state-owned Hindustan Aeronautics Limited was earmarked to partner with General Electric for the manufacture of the F414. The HAL is the nodal aviation manufacturing organisation having the experience and the necessary infrastructure. India has lacked engine-related technology.  
As of now the cost of the project has not been revealed but the number of engines to be co-produced stands around 100. The deal is being seen as important as India lacks in engine-related technology. 
In future, the number of jet engines would go up given the scenario the Indian Air Force is already down to around 30 combat squadrons as against a sanctioned strength of 42. The GE F414 will be an advanced version.
It is pertinent to mention here that the first batch of the 40 LCA Tejas inducted in 2016 is fitted with a GE F404 engine bought from General Electric.
LCA Tejas is a multirole platform designed to undertake the Air Defence, Maritime Reconnaissance and strike roles. Further to the LCA Mk 1, 83 LCA Mk-1A aircraft have also been contracted by the IAF in 2021 and will replace the ageing fleet of the MiG-21 fighters.
Israel shares October 7 CCTV footage of kidnapped hostages at Gaza hospital (WATCH)
Last Updated Nov 20, 2023, 10:13 AM IST