Army aviation wing to lease helicopters, induct LUH to plug gap created by outgoing Cheetah, Chetak
The Indian Army's aviation wing is phasing out its Cheetah and Chetak light helicopter fleet in the next 4-5 years. To address shortages, they plan to lease helicopters and procure Hindustan Aeronautics Limited (HAL)-developed Light Utility Helicopters (LUH).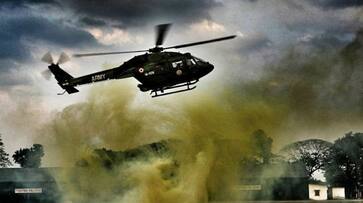 With the phasing out of the fleet of light helicopters Cheetah and Chetak over the next 4-5 years, the Indian Army's aviation wing will lease helicopters to plug shortages, apart from procuring Hindustan Aeronautics Limited (HAL)-developed Light Utility Helicopter (LUH). "We have put out a request for information and we got responses from several people on that. We are still analyzing the responses and then thereafter we will be going for leasing by issuing the RFP (request for proposal) and whatever procedural issues are there, we are quite hopeful that we would lease a certain number of helicopters," a source in the defence establishment.
Further, sharing the phasing out plan of Cheetah and Chetak, the source said: "We required 250-odd light helicopters for reconnaissance and surveillance activities that we do. We will contract for 100+ light utility helicopters and given that the capacity the HAL has today. We will have to look at alternate means too to replace the entire fleet of Cheetah and Chetak helicopters. So we are also looking at a couple of other options like leasing, where we get a few helicopters for a few years and subsequently if the HAL is able to manufacture balance numbers too… maybe we go the HAL route."
The source also said that the main focus is to have indigenization and Make-in-India products. Talking about the timeframe for replacement of helicopters, he said: "It is a long process and it may take atleast 10-12 years in phasing them out." 
Aiming to enhance the operational capabilities, "Light Utility Helicopter (LUH) has been fitted with Auto Pilot and the trials are undergoing and first lot may enter service by end of 2024."
The Army Aviation Corps, which recently celebrated its 38th raising day on November 1, is currently facing with an overall shortage of about 70-80 helicopters. 
Currently, the Army Aviation has modern Advanced Light Helicopter (ALH) Mk-III, Weapon System Integrated (WSI) helicopter and Light Combat Helicopter (LCH). 
It should be noted that ALH-WSI is being integrated with Helina missiles and "it would take a year time. The production of Helina missile systems would take another three years."
In future, the aviation wing will induct state-of-the-art LUH and Apache attack helicopters in its inventory. The force is expected to get Boeing-made Apache combat choppers in February next year. Training of pilots and technicians on Apache Attack Helicopter has been completed. 
Light Combat Helicopter
The first Light Combat Helicopter Squadron with five LCHs has been raised, deployed and operationalized in Assam's Missamari. The Army has also planned to procure 90-95 LCH for mountain warfare. The Indian Army already operates four squadrons of ALH WSI (Weapon System Integrated). One squadron of Army Aviation is comprised of about 16-18 helicopters, depending on the operational requirements.
More aviation brigades 
Aiming to boost air strike capability like surveillance, logistics and insertion, the Army is planning to raise the number of Aviation Brigades which at present is three with two operating along the Line of Actual Control in each at Leh (Ladakh) and Missamari (Assam) and one along Pakistan Border in Jodhpur (Rajasthan).
'Heron fleet to be upgraded'
"We have already got Herons 1 and 2s, which are satcom enabled and we are getting next year Hermis 900 Star liners Remotely Piloted Aircraft System (RPAs). They are also satcom enabled. In addition, our entire Heron fleet, which we call Mk1, is going to be upgraded to the SATCOM version. In addition, few numbers we have also procured. So overall, the number which is required for the Indian Army that would happen in 4-5 years," the source said, adding, "We are also getting the HALE class of UAVs that is predators and that is the combined case of army, navy and air force. These will be getting to us in the next 3-4 years."
Last Updated Nov 8, 2023, 9:58 AM IST