Army urgently seeks 48 jetpack suits, 100 robotic mules, 130 tethered drones and jammers
The Indian Army has floated three requests for proposals (RFPs) for procurement of these technologies under emergency procurement through the Fast Track Procedure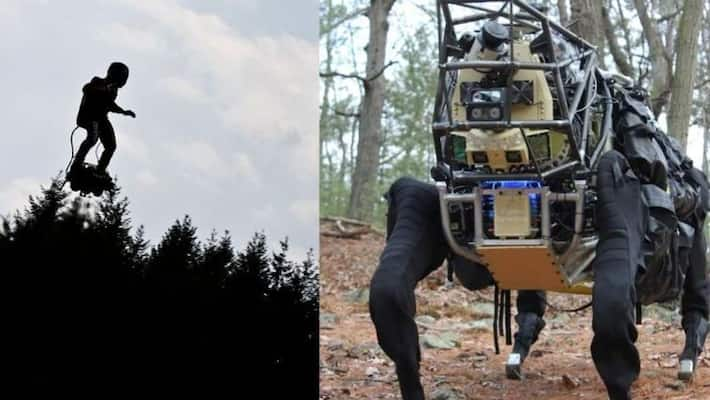 As part of its modernisation drive and giving impetus to the government's ambitious Aatmanirbhar Bharat initiative, the Indian Army has floated three requests for proposals (RFPs) for procurement of 48 jetpack suits, 130 tethered drone systems and 100 robotic mules under emergency procurement through Fast Track Procedure (FTP).
Tethered drone systems
The Army has invited responses only from the original equipment manufacturers or authorised vendors, or government-sponsored export agencies. The vendors will have to submit their bid by February 14 with an earnest money deposit (EMD) of Rs 70 lakh.      
According to the RFP, each tethered drone system should consist of two aerial vehicles with combined EO/IR payloads, one portable ground control station, one tether station, one remote video terminal, one suitable generator set, one battery charger with a spare battery per drone and modular carrying system.
It must have a minimum indigenous content of 60 per cent. The aim of procuring these systems is to enhance the Indian Army's surveillance capability beyond line of sight targets for prolonged periods. It should also be launched from untethered mode for a certain duration to obtain additional information or confirm intelligence inputs.
Once the deal is inked, the vendors will have to deliver the equipment in 12 months. A tethered drone is an unmanned aerial vehicle connected to the ground which can lift payloads, like cameras or radios/antennas among others.
Jetpack Suit
The Indian Army is looking to acquire 48 jetpack suits. It is a device that propels the wearer through the air. The device uses gas or liquid or hybrid fuel technology to propel the user to fly at a maximum speed of 50 km per hour. The last date for submission of bids is February 7. 
It will be able to operate satisfactorily in deserts, mountains and high-altitude areas up to 3,000 metres up. The weather-proof suit, which must have minimum indigenous content of 60 per cent, will enable its user controls for safe descent, safe ascent, and movement in all directions.
Robotic mule
The Army is looking to buy 100 robotic mules along with associated accessories. The last date of submission of the bid is February 6. The quadruped (four-legged) robot, which will be able to move in uneven terrain, would have to be able to move autonomously across terrains and have obstruction-avoidance features and self-recovery capabilities. 
With a payload capacity of 10 kg, the robot would have to be able to operate in GPS-denied environment and will have front and rear collision avoidance with both moving and static obstacles. Besides being able to climb stairs and footsteps, the mule will operate on a predefined mission route automatically using a command-control station.
Drone jammers
In a bid to deal with drone intrusion along the borders with Pakistan, the Army also intended to purchase 20 drone jammers. The last date for submission of bids is February 10.
Last Updated Jan 25, 2023, 9:30 AM IST