You can buy iPhone 15 series on Blinkit with 10-minute delivery option; Check details
The iPhone 15 series can be bought in a few minutes through Blinkit. The service has already delivered at least 4 iPhones to customers. The iPhone 15 series with the base 128GB comes with a starting price of Rs 79,900.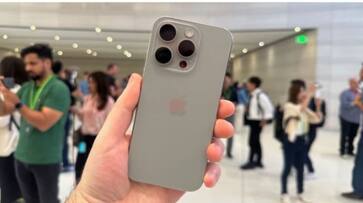 It appears that purchasing an iPhone 15 series just takes a few minutes. Customers in Delhi NCR, Mumbai, and Pune have the opportunity to order the new iPhone 15 series through Blinkit. The service has teamed up with Unicorn, an authorized Apple retailer, to quickly bring the new iPhone 2023 to your home. This service has been introduced to accommodate people who would rather not wait in lengthy lines at Apple's official stores, where customers have been waiting in line for hours to purchase the newest iPhones.
The iPhone 15 series went on sale on September 22. The official Mumbai and Delhi outlets of the tech firm saw a large influx of Apple devotees from all around India. 
Blinkit, on the other hand, guarantees to deliver the iPhone in a matter of minutes for individuals who place a premium on speed and convenience. Due to a strategic alliance with Apple premium reseller Unicorn, Blinkit asserted on Twitter early in the morning that the business had already successfully delivered four gadgets to consumers.
The Blinkit platform offers a selection of colors and storage capacities for the iPhone 15 and iPhone 15 Plus. Additionally, customers might benefit from launch promotions. These include a cashback offer of up to Rs 5,000 on qualifying HDFC cards, a no-cost EMI, and a low-cost EMI.
Those who want to order the iPhone 15 or iPhone 15 Plus through Blinkit can simply open the app, search for their preferred model, select the desired variant, add it to their cart, and proceed to checkout. The iPhone 15 Pro and iPhone 15 Pro Max sales have been delayed and so, the service is currently selling these two models.
The iPhone 15 with the base 128GB comes with a price of Rs 79,900, whereas the iPhone 15 Plus with 128GB will cost you Rs 89,900. The iPhone 15 Pro will be sold for Rs 1,34,900, and the iPhone 15 Pro Max, which is the most premium iPhone from Apple, is priced at Rs 1,59,900.
Last Updated Sep 23, 2023, 12:02 PM IST