Amazon sale 2023: Apple iPhone 13 deal REVEALED! You can buy it under Rs 40,000
Amazon announces substantial iPhone 13 discount for the Great Indian Festival sale. With additional bank card and exchange offers, customers can reduce the price of iPhone 13 to a tempting Rs 39,999.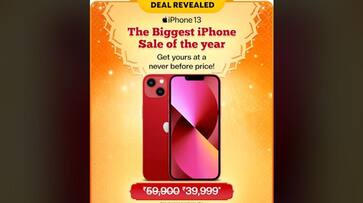 Just in time for its forthcoming Diwali sale, Amazon has announced a significant discount on the iPhone 13. Customers can rejoice as the iPhone 13 will be offered on Amazon during this holiday season for an astounding discount of Rs 13,901. Additionally, you may further reduce the cost by utilizing bank card promotions and exchange specials. Here's a deeper look at the iPhone 13 offer to see if it's still relevant with the recent release of the iPhone 15.
The iPhone 13 will be available for the lowest price ever during the sale. According to Amazon's teaser page, it would be priced for Rs 45,999, a significant discount from the initial price of Rs 59,900 as advertised in Apple shops. Customers may receive an extra discount of Rs 2,500 by using their SBI bank cards, bringing the price down to Rs 43,499. Although the precise exchange price may fluctuate, those who want to trade in their old phones will also get an additional exchange discount of Rs 3,500. When the flat discount, bank card promotion, and exchange bonus are taken into account, the iPhone 13's actual price drops to an alluring Rs 39,999.
The Amazon offering still provides a competitive pricing of Rs 43,499 even if you decide not to trade in your old phone. The iPhone 13 is an attractive option because it performs similarly to the iPhone 14 in terms of camera quality and general performance. The battery life is outstanding, and the display is vivid. It's important to note that, unless you want to utilize an existing charger, a charger is not included in the package and that you must buy one separately.
The iPhone 15 can be a good option for individuals with a bigger spending limit of about Rs 75,000. It supports USB-Type C charging and has improved performance and camera quality. Although the iPhone 15's starting price is Rs 79,900, HDFC bank cards sometimes provide discounts of up to Rs 6,000, enabling customers to purchase the latest iPhone at a little lower price. The decision between the iPhone 13 and iPhone 15 ultimately comes down to your individual requirements and financial limitations.
Last Updated Oct 4, 2023, 6:53 PM IST