Tamil actor Vishal clears rumours of marriage with Lakshmi Menon, says "absolutely not true"
Tamil actor Vishal denies marriage rumors with co-star Lakshmi Menon. In a statement, he emphasizes their platonic friendship and expresses concern for protecting her reputation amid swirling speculations. - By Mahasweta Sarkar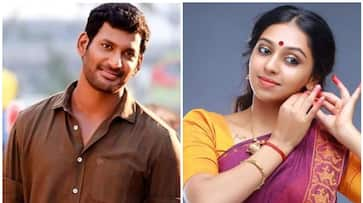 Tamil actor Vishal and Pandiya Naadu co-star Lakshmi Menon were rumored to be getting married due to their strong friendship. However, Vishal has now taken to social media to address these speculations. In a statement, he denied the marriage rumors and emphasized that they share a close friendship, but there's no romantic involvement. This clarification comes after various media reports fueled the wedding gossip.
Vishal denies marriage rumours
Tamil actor Vishal, often regarded as an eligible bachelor, faced marriage rumors with his 'Pandiya Naadu' co-star Lakshmi Menon. Responding swiftly, Vishal released a statement to quash the speculations, highlighting his concern for protecting Lakshmi's reputation from potential misinformation. The actor clarified that their relationship was purely platonic, emphasizing the need to set the record straight amid swirling rumors.
"Usually I don't respond to any fake news or rumors about me because I feel it's useless. But now that the rumor about my marriage with Laksmi Menonis is doing the rounds, I point blankly deny this, and it's absolutely not true and baseless. The reason behind my response is only because it involves a girl, more than her being an actress. You are invading and spoiling a girl's private life and maligning her image. It's not a Bermuda triangle to decode the year, date, time, and who I am getting married to in the future. I hope sense prevails. When the time comes, I will announce my marriage officially. God Bless," Vishal wrote
Amid his promotional commitments for the upcoming release of "Laththi," Vishal is eagerly anticipating its debut next week. Additionally, the actor has a busy year ahead with three projects scheduled for 2023, including his much-anticipated directorial debut.
Last Updated Aug 11, 2023, 12:48 PM IST