Malaika Arora gets trolled for sharing private photo of Arjun Kapoor posing n*aked
Arjun Kapoor and Malaika Arora have been dating for a few years. The actress shared a naked photo of Arjun on her Instagram stories that, created chatter among social media users.
Malaika Arora and Arjun Kapoor are the most-talked-about couples in the Bollywood industry. They have been going strong for years now. Every now and then, Malaika and Arjun drop pictures of or with each other, setting couple goals. They have also been making headlines for their alleged wedding rumours. 
Last night, they made headlines for a picture shared by Malaika on her Instagram. Malaika shared an almost bare-body photo of Arjun, which is such a tease for his fans. 
A few hours ago, Malaika and Arjun made it to entertainment news for the bare-body picture of Arjun shared by the actress. Arjun is seen sitting on a couch with no clothes, just a cushion covering his private part. "My very own lazy boy...' wrote Malaika as the caption while adding the abbreviation IYKYK which stands for If you know, you know. 
Arjun Kapoor's female fans would be going crazy right now. The picture is going viral and has grabbed headlines everywhere. Arjun was the biggest tease as he reshared the picture and dropped a white heart emoticon, replying to Malaika's monochrome click.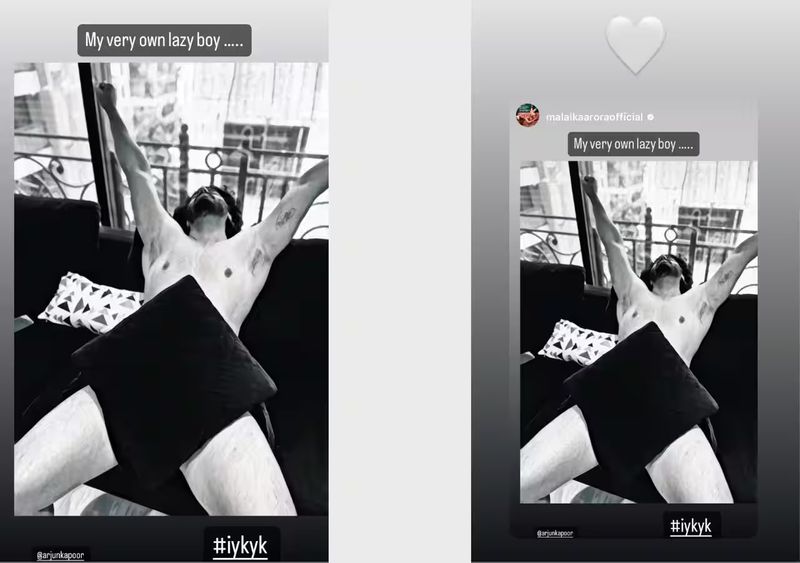 Malaika Arora gets trolled:
Netizens reacted with various opinions; some were shocked, while others criticised the pair for their behaviour. Many made demeaning comments about Malaika's age difference with her boyfriend. "These Bollywood celebrities have no manners or shame…tsk tsk….and Arjun wonders why no one takes him seriously," one wrote.
A comment read, "A normal woman who has an adult child would never post such pictures on social media.... Yeh log cool banne ke chakkar mein c*******a karte hai." one netizen commented, "Get room what kind thing to put social media. Yuck" said one. 
A couple of weeks ago, Malaika and Arjun were in Berlin, Germany. The actor shared a lot of pictures from their vacation. Some candids and some poised. Malaika and Arjun are also often criticised for their relationship. But the two love birds have been ignoring the trolls most of the time and enjoying their life.
In an interview, Malaika praised Arjun a couple of weeks ago, calling him extremely wise for his age. She called him very liberated and extremely caring. The actress shares that she would love to set up a home with Arjun and take their relationship to the next level.
Last Updated May 29, 2023, 7:54 AM IST