Actor Karthi did request director Mani Ratnam to have him in mind for any fitting film
From a foodie to a controlled diet, Karthi had to work hard to keep pace with the director's expertise and pace
His daughter said, "You look young in this movie," which is the greatest compliment for Karthi
"I used to meet and often tell director Mani sir to have me in mind for any film of his; after all I started as an assistant director to him," said actor Karthi, finding it hard to believe that it actually happened at the end of the day. Is it a dream come true? "More than the call from him, the character I play is definitely a dream come true," he said.
From the rustic Karthi that we have seen in films like Paruthiveeran or Komban where he sports a huge moustache with a beard, here it seems like a completely contrasting look - clean-shaven and a stylish military undercut. "The character in itself is something I never did before and I didn't really think I was cut out for this until Kaatru Veliyidai happened," Karthi said.
No wonder Karthi wanted to prepare hard before the shoot. With a help of a friend, he even spent days with air force pilots, so he could understand their lifestyle, day-to-day activities, their psychology and emotions. "It was only after spending time with them that I could relate to this character. I was amazed at how Mani sir had done an in-depth study on them to design this character," he said.
For him, the grit, determination and the sacrifice of the air force pilots affected him much more when he started essaying that role. When the hero started taking lessons in flying, working with simulators, performing the required stunts, he realised the everyday risks that those in the Air Force are put through. "And I began to respect them much, much more," he mused.
It was tough initially when a foodie like Karthi had to follow a strict regimen with a controlled diet. "I had to get into the habit of measured eating with no carbs," he said. However, the love for the role overtook his love for food.
Same is the case with the leading actress in this film. Aditi Rao would rehearse a 100 times before her take for she didn't know the language. Such was the dedication. "For the song 'Vaan', we were shooting in a place where the temperature was minus 15 degrees. And Aditi had to pull it off with a sari. Hats off to her," said Karthi.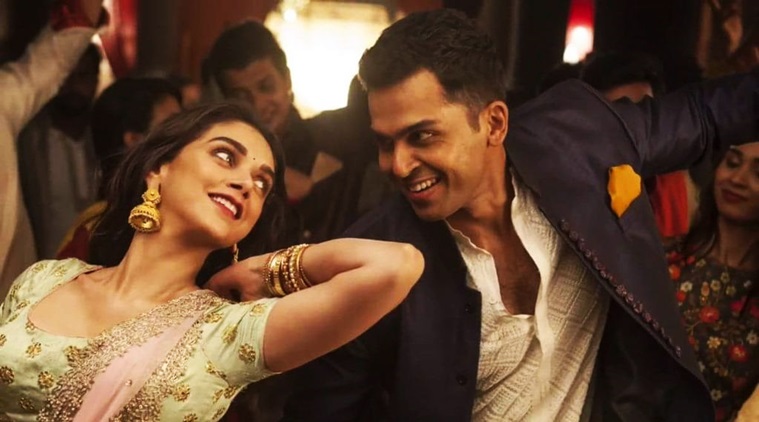 When it comes to director Mani Ratnam, 'he works at such a great pace that we have to work hard to cope up,' the actor said. The shooting of Kaatru Veliyidai was done in a span of 50-60 days. " Before we knew it, it was over, just like the speed of the wind," laughed Karthi, stating that perhaps that's what Kaatru (meaning wind in Tamil) in the film Kaatru Veliyidai signified.
While Karthi's brother Suriya took to twitter to congratulate him when the first teaser of the movie was released with the song 'Azhagiye', Karthi's daughter gave him the world's best compliment. "My beautiful daughter said I look very young in this movie," said Karthi, gushing with pride.
Karthi's father, Shivakumar (a veteran himself in the Tamil film industry) is a man of few words. "My parents haven't seen the film yet," said Karthi, immediately reminiscing about his growing up years. "When I think of my parents, especially my mother, I keep wondering how I never got ask her simple things like a favourite song or colour until I finished college," he said, waiting eagerly to capture their reaction once the film hits the screens.  
The moment Karthi heard the song Azhagiye, he instantly loved it. "It's AR Rahman's music to start with. It's a song where the guy proposes. It has the lines - marry me. Naturally I loved it. And I knew people will love it," he said. As the big day steadily closes in, the air force pilot in Kaatru Veliyidai has the regular jitters that passengers go through before the flight takes off. "I wouldn't say jitters, but yes I'm anxiously waiting to catch the reaction in the theatres."