Eknath Shinde's Ganpati Puja: Jackie Shroff steals the spotlight at Maharashtra CM's house with his antics
Many Bollywood actors like Jackie Shroff, Pankaj Tripathi, Arjun Rampal, Shah Rukh Khan, Salman Khan and Suniel Shetty were seen attending the Ganpati puja at Maharashtra CM Eknath Shinde's home on Sunday night.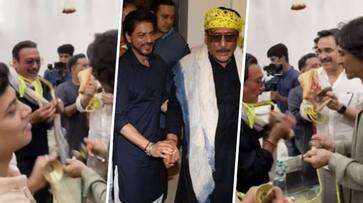 Jackie Shroff attended Maharashtra Chief Minister Eknath Shinde's Ganesh Puja on Sunday night. Jackie was seen partaking in the puja alongside Pankaj Tripathi, Arjun Rampal, and Suniel Shetty in a video leaked by paparazzi. In the Instagram video, Jackie was seen in good spirits, playing the cymbals while the puja was being done. Jackie's antics had Pankaj and Arjun in stitches.
Shah Rukh Khan was also spotted wearing a royal blue kurta with a white salwar. He finished the appearance by pulling his hair back into his characteristic ponytail. He ran across Jackie Shroff on his way to the Ganpati idol and kissed him on the cheek. 
Jackie donned an attire identical to Shah Rukh's, although she accessorised with a yellow bandana and a white shawl with blue embellishments. The two stars had a little talk while laughing and posing for the photographers.
The video of them greeting has also gone viral. Also present at the puja was Salman Khan. Fans of the actors took to the comments section to express their appreciation. One Shah Rukh fan wrote, "He is so fine at the age of 56." Another added, "Mashallah srk❤️" A fan of Jackie Shroff commented, "Jaggu bhai"
Jackie made headlines last month for his performance in Jailer. In Rajinikanth's flick, he portrayed the villain. This year, the film became one of the biggest successes in the Tamil cinema industry. 
Jackie recently made news after attending Dev Anand's 100th birthday festivities over the weekend. He attended the event alongside Waheeda Rahman.
Last Updated Sep 25, 2023, 10:44 AM IST