Couteney Cox, Jennifer Aniston and others 'devastated' with Matthew Perry's death; Read
Matthew Perry's tragic death, known for Chandler on "Friends," leaves the world mourning. The remaining cast is devastated and plans to issue a joint statement, while Perry's family expresses their heartbreak and gratitude for the support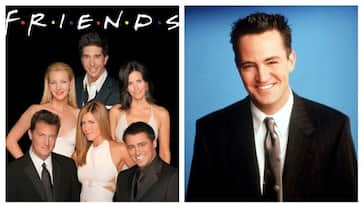 The world was shocked by the devastating news of Matthew Perry's passing. The beloved actor, renowned for his portrayal of Chandler Bing on the iconic sitcom "Friends," tragically lost his life in a heartbreaking incident. Perry, aged 54, was reportedly discovered unconscious in his jacuzzi, apparently as a result of drowning. It was his assistant who found him in this distressing state and promptly called for emergency assistance, initially suspecting a possible cardiac arrest.
Matthew Perry's untimely demise has left a profound void in the hearts of fans worldwide, as he had played one of the most cherished characters in the history of television comedy.
Concurrently, there has been growing concern among netizens about how the remaining cast of "Friends" is coping with this irreplaceable loss. The core ensemble, including Jennifer Aniston, Matt LeBlanc, Courteney Cox, David Schwimmer, Lisa Kudrow, and Matthew Perry, shared an exceptionally close bond during and after the show's incredible success. Here's what we have learned about how the five surviving cast members are grappling with this tragic loss.
According to information from Page Six, Aniston, Cox, Schwimmer, LeBlanc, and Kudrow are planning to issue a joint statement following Perry's passing at his Los Angeles residence on October 28. The news of Perry's demise has had a profound impact on them, and sources report that the cast is reeling from the loss of their beloved co-star. "The cast is reeling from the loss of their brother because that's what Matty was: their brother," a source shared with the portal.
The source further emphasized the depth of their sorrow, saying, "It's just devastating. They were together through the best of times and worst of times. And when Matty was sick, they protected him, they looked after him fiercely." For those who may not be aware, "Friends" was on the air from 1994 to 2004, spanning ten unforgettable seasons. Perry's character, Chandler Bing, was paired romantically with Courteney Cox's Monica Geller, and their on-screen chemistry was a cornerstone of the series' immense popularity.
In reminiscing about "Friends," it's important to highlight the incredible ensemble that contributed to its enduring success. Matthew Perry brought Chandler Bing to life, while Courteney Cox portrayed Monica Geller. The show's core ensemble also included Jennifer Aniston as Rachel Green, paired with David Schwimmer's portrayal of Ross Geller, Matt LeBlanc as Joey Tribbiani, and Lisa Kudrow as Phoebe Buffay. All six actors received widespread critical acclaim and earned immense popularity and appreciation for their indelible roles. The show itself garnered numerous awards and nominations throughout its impressive run.
In the wake of Matthew Perry's tragic passing, his family, consisting of his parents and siblings, issued a heartfelt statement to express their grief and gratitude for the outpouring of support. "We are heartbroken by the tragic loss of our beloved son and brother. Matthew brought so much joy to the world, both as an actor and a friend," they conveyed to People. The statement further expressed their appreciation for the overwhelming love and support extended to them during this difficult time.
Last Updated Oct 30, 2023, 11:21 AM IST