Chithha review: Siddharth's film gets thumbs up from audience; read what fans have to say
Chithha Twitter Review: Chithha, starring Siddharth, is out today (September 28) in theatres worldwide. The film, directed by SU Arun Kumar, also stars Nimisha Sajayan. The soundtrack for this film was composed by Vishal Chandrasekhar.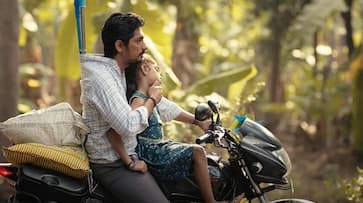 Chithha will be released with Iraivan by Jayam Ravi and Chandramukhi 2 by Raghava Lawrence. In this situation, prominent cinema reviewer Blue Sattai Maran gave this picture a good review, raising tremendous anticipation among fans. 
Speaking about the film, director SU Arun Kumar is quoted as saying, "There are many films that represent the sentiment of Thai mama (maternal uncle). This film talks about the love and affection of a Chitthappa (Father's younger brother)."
Check back here for more intriguing Twitter reactions to the film Chithha:
"Hero Siddharth's brother dies. So Siddharth is responsible for raising his brother's 8-year-old daughter and his sister-in-law. Siddharth's friend also has an 8-year-old daughter, and both these girls study in the same school. Then the screenplay moves that someone abuses the friend's daughter and the blame falls on Siddharth.
What is the truth in this incident and whether Siddharth escaped is the rest of the story. At the same time, there is another interesting incident behind this and the film is completely talking about Child Abuse." says Blue Sattai Maran.
Siddharth is claimed to have performed in an important scene in Vijay TV's Baakiyalakshmi serial as part of the film's marketing, and the sequence is scheduled to show shortly to build additional anticipation for the film Chithha. A photo of Suchitra with actor Siddharth is also doing the rounds on social media.
Chithha Story: 
Chithha is the narrative of a girl (Sahasra Sree) who is the love of her Chithappa (Siddharth). He is very close to her, and once Sahasra's father dies, her Chithappa assumes her responsibilities by supporting Sahasra's mother. On the other side, the neighbourhood has seen several kidnappings and alleged rapes. Chithha joins forces with the cops to apprehend the madman.
About Chithha: 
Siddharth, Chithha, SU Arun Kumar, and Nimisha Sajayan play important parts in the film. Siddharth produces the film under the company Etaki Entertainment. Vishal Chandrashekhar and Dhibu Ninan Thomas wrote the film's music and background soundtrack. Balaji Subramanyam switched on the camera. The film's editor was Suresh A Prasad. CS Balachandar was the Art department's chief.
Last Updated Sep 28, 2023, 8:56 AM IST