Bigg Boss 17: Abhishek Kumar gets in heated exchange with ex-lover Isha Malviya; breaks down
Bigg Boss 17 heats up as Abhishek faces emotional turmoil after clashes with ex-lover Isha Malviya. Mannara Chopra and Naveed lend their support, consoling him.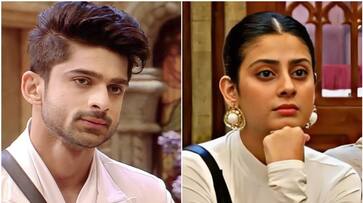 On the latest installment of Bigg Boss 17, which aired on November 8, the house witnessed a flurry of intense moments, conflicts, and heated arguments. One standout incident involved contestant Abhishek Kumar experiencing emotional distress following a disagreement with his ex-lover, contestant Isha Malviya. Abhishek while having breakfat in Dil room found himself embroiled in a dispute with Isha and Aishwarya over milk.
Tensions escalated when Aishwarya pointed the finger at Abhishek for allegedly opening the milk carton. In response, Abhishek vehemently objected to Aishwarya involving him without knowing the full truth. As the exchange became more heated, Isha intervened, urging Abhishek to lower his voice. This only fueled his frustration, prompting a dramatic exit. When Aishwarya and Isha shut the door, Abhishek rushed towards them, prompting Isha to quip, "Bhaag ke aa raha hain, tu marne aa raha hain kya? (Why are you charging in? Are you coming to attack me?)"
Later, in the kitchen area, Abhishek requested coffee from Isha, who declined, citing a cold. Mannara teased her, and Abhishek, visibly upset, walked away, went to bathroom and started crying. He found solace with Mannara and Naveed, who provided comfort. Mannara advised Abhishek to maintain his composure, cautioning him against giving Isha more power.
Interestingly, Mannara injected some flirtatious banter into the episode, playfully interacting with Abhishek over ration matters. Meanwhile, a cozy moment unfolded between Abhishek and Khanzaadi, with Abhishek approaching her while she slept. This clandestine encounter didn't escape the notice of Munawar Faruqui. As the dynamics within the Bigg Boss house continue to evolve, viewers are undoubtedly in for more twists and turns in the days to come.
ALSO READ: Bigg Boss 17: Ankita Lokhande to give birth to twins? Here's what we know
Last Updated Nov 9, 2023, 1:23 PM IST