EXCLUSIVE: 'CAA is a political tool invoked by BJP to divide'
All India Mahila Congress President and Congress National Spokesperson Sushmita Dev spoke to Asianet Newsable's Yacoob about the party's election strategy in Assam, its next-generation leaders and why it believes it can win the 2021 elections.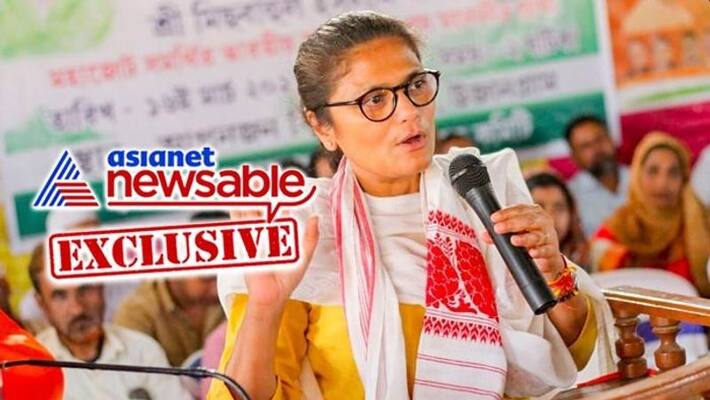 The Congress party's top leadership, barring one visit each by Priyanka Gandhi and Rahul Gandhi, hasn't actively campaigned for the 2021 Assam election. But despite that, the state party leaders are confident of retaining power in the state.
All India Mahila Congress President and Congress National Spokesperson Sushmita Dev spoke to Asianet Newsable's Yacoob on the party's election strategy in Assam and its next-generation leaders.
On what issues is Congress fighting the elections in Assam?
Unemployment and corruption -- these are the two issues across Assam. The kind of unemployment that has hit Assam especially after the lockdown you know, the economy crashing the way it has, everywhere we go, it is about jobs and I think corruption has been institutionalized. So you may not see it but it is the parallel system that runs in a system many ways and in an organized way at the top level that every contractor, every businessman will say it behind closed doors.
How much is the Congress missing late chief minister Tarun Gogoi this election season?
See Tarun Gogoi gave 15 years of an inclusive and peaceful atmosphere in Assam. His strategy was never to divide and rule. I think that was Tarun Gogoi's hallmark. But with him gone I will not say... next-generation like Pradyut Bordoloi, Ripun Bora, Debabrata Saikia -- they are all prominent faces. They invoke faith in people who backed Tarun Gogoi's legacy. It is wrong to say we are not missing Tarun Gogoi, but it is not right to say that therefore there is a vacuum. I believe that we have enough credible faces in the generation next who are working very hard. I think before the generation of Gaurav Gogoi and me, the generation of Pradyut Bordoloi, Ripun Bora, Debabrata Saikia are at the forefront. So Tarun Gogoi's legacy backed with these credible faces, I think it is a good combination.
There has been criticism both within and outside the party with regard to forging an alliance with the AIUDF. Was the Congress not confident of winning the election on its own?
See it is not about Congress not being able to win without an alliance. Even BJP is also in an alliance, nobody is talking about BJP's alliance. There is an alliance on both sides. Somehow the narrative and the focus is always in on Congress and I don't understand why. First BJP forged an alliance with BPF (Bodoland People's Front). Now they say BPF has suddenly become corrupt overnight. Now they are with that other party, I can't remember its name. They are also in alliance with the AGP (Asom Gana Parisad). So there is an alliance on both sides. So if you ask me the questions that couldn't have Congress win without an alliance the question can be posed to the BJP. Couldn't they win without an alliance?
What has been the response of the people with regard to the Congress outreach campaign against the CAA?
See I will tell you what, CAA is a political tool. You see BJP always invokes some political tool to divide. I ask myself a question, who has the CAA helped today? First came CAB (Citizen Amendment Bill) before the Lok Sabha elections, now it has been taken in the form of the Act which is CAA. The Act is still pending. I have read it somewhere that they have still not formed the rules. What is it? Nobody knows and BJP is conveniently using it in West Bengal. They are silent about it in upper Assam, but when they come to Barak Valley they again use it. 
It (CAA) is nothing but a political tool This CAA is actually a political weapon. It is not made in anybody's interest and I think that is becoming clear to all the communities.
If CAA is formalized and if it becomes operational, you will have to start writing that 'you come from Bangladesh or Srilanka or from wherever right? So the first condition of CAA is that a person has to start by admitting that he is a foreigner. Every single person in the state of Assam has already applied under NRC. Am I right when I say that? You have filled up a form, you have given an affidavit and all documents claiming to be a citizen of India. So now under CAA can you go and say no I am not a citizen and I am from Bangladesh? Who will do it?. It's a simple question. It's a double-edged sword. Outside the NRC, either you can appeal against the decision and go to appellate authority against claiming that you are a citizen or you go under CAA (Citizen Amendment Act) admitting that you are a foreigner. I want to see how many people admit that they are a foreigner in Assam.
It was reported that you refused to wear 'Anti -CAA Gamosa' in Sibasagar while Congress is openly criticizing it? What do you have to say about that?
When I went to Sibsagar at that point in time, the meeting happened on February 21 in Hojai which is one of the largest congregations of linguistic minorities, Bengalis. On February 21, they (BJP) set the narrative saying that look whoever is included in the voters' list has already shown the documents and then entered the voters' list, right? Voters list has been reviewed several times when the Congress government was there, right? Once it was reviewed when the AGP was there. So Congress party clarified on February 21 which is the International Mother Tongue Day, that people who have shown their documents have been reviewed on the 2014 voters list. Congress as a party believes and stands by them that they are citizens. So the Sibsagar meeting happened before February 21. 
For me, I had first given my community assurance about Congress's stand before I took that stand. Otherwise, BJP would have misused it in the Bengali area. And I have consistently maintained that India as a country cannot leave people stateless. We need a constitutional remedy as per the international laws. That's my stand.
I have always said that we have to find a remedy that is in line with India's international policies when it comes to you know, Citizenship, refugees and whatever. For me to say anti-CAA and pro-CAA... it is very difficult. I am a lawyer. I understand the laws very well. So politics is about perception. I have to first make sure that my party explicitly says that what is that they are going to do with the voters' list, which they did on February 21.
Who is the Congress party's Chief Ministerial face in Assam? Gaurav Gogoi has said that he is not interested in being the CM if Congress wins.
Our first battle is to win the election. For the first time, if you look at our 2016 election campaign, it was Tarun Gogoi's leadership and his face. It was a single man on the hoardings, saying Tarun Gogoi's government has given us 15 years of good governance. This time, in the election, there is no single name. Everybody's on the 'yatra poster'. There is Pradyut Bordoloi, Gaurav Gogoi, Rakibul (Hussain), Debabrata Saikia, me, Khalek (MP Abdul Khalek)... all of us on the poster. It is all about winning the election collectively. Who will be the chief minister after we win will depend on what the high command decides and who the MLAs want? So I think at this point in time to pin it down to one person is neither healthy nor democratic.
Has Priyanka Gandhi coming to Assam helped?
There is absolutely no doubt about it that when a tall leader like her (Priyanka Gandhi) comes and gives an assurance to the people of Assam about delivering on the promises -- which she calls 'guarantee' -- it carries weight. I think it increases the credibility of our party. It increases the credibility of our 'guarantee'. Her announcing it definitely had a huge impact on the people.
The top Congress leadership is split and a group of 23 leaders are out in the open attacking the party's functioning. Don't you think this will hamper the party's image during the election to four states and union territory?
If someone says that the party needs to be run in a better way internally, I believe that the voice should stay within the party. You should not go public with it. Everybody has the right to raise (issues) within the party but it comes along with the duty to not go public. That is my view. I will not comment on what they are saying on the merit, it's not for me to comment on their merit. I think they are far more senior than me, many of them in that group. But I believe that going public about it is not in the interest of the party.
How many seats is Congress expecting to win in forthcoming elections?
We are confident, but we are fighting hard. We believe that we will form the government with the requisite number with pre-poll alliance partners. But we are definitely not overconfident. We put forth our best foot forward. Rest is all about election management and as of now, it is going pretty well. I am quite confident we are going to form the government but how many seats I am unable to say at this stage. Our internal surveys are showing 101 (seats). Which 101 if you ask me I will not be able to give it, but we are confident that we at 101 (seats).
Last Updated Mar 18, 2021, 2:19 PM IST