WC 2023, PAK vs SL: Playing in Hyderabad felt like playing in Rawalpindi, says Rizwan; to pray for curator
Pakistan's Mohammed Rizwan scored an unbeaten 131 off 121 balls and guided his team to a comfortable six-wicket win against Sri Lanka in their ODI World Cup 2023 clash in Hyderabad on Tuesday.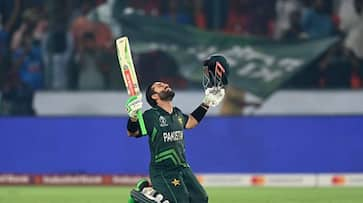 Pakistan batter Mohammed Rizwan's exceptional performance in the ODI World Cup 2023 match against Sri Lanka on Tuesday in Hyderabad prompted him to express his gratitude to the local curator who provided a batting-friendly pitch. He scored a remarkable century, guiding Pakistan to a comfortable six-wicket victory over Sri Lanka in a record-breaking run-chase during the World Cup. Rizwan scored an unbeaten 131 off 121 balls, contributing to Pakistan's historic run-chase of 345 for 4, which stands as the highest successful run-chase in the history of the showpiece tournament.
"When we got to the ground for the first time, he (curator) said, 'Rizwan, you must hit two 100s on this ground'. I met him today as well. We can pray for him and you should pray for him too," Rizwan said at the post-match press conference as Pakistan team ended its two-week Hyderabad leg on a high with two wins in two games.
The warm reception and affection that Pakistan received in Hyderabad, which is often referred to as "Nizam's own land," made Rizwan feel as though he was playing in his hometown of Rawalpindi.
"I felt like I was playing a match in Pindi. The way the crowd gave love today (Tuesday), and not just me, the whole Pakistan team got love. In fact, they supported Sri Lanka too. I am happy that the crowd in Hyderabad has supported cricket, both Sri Lanka and us. I had a lot of fun with them."
Rizwan also praised the unparalleled hospitality of the people in Hyderabad, drawing parallels with the atmosphere in Rawalpindi.
"Hospitality, you all must have seen it. Someone must have taken pictures when we came to the airport. I said earlier that I felt like I was playing in front of crowd of Rawalpindi. Our ground in Lahore is big, a lot of people come there but today it seems that Pakistan's match is taking place in Rawalpindi," Rizwan said while speaking to the media.
Rizwan recalled his conviction that a target of 340-350 was achievable, emphasizing the need for an efficient batting performance. Rizwan and Abdullah Shafique's formidable 176-run partnership set the stage for Pakistan's victory.
"This is management and captain's decision. As a senior player, we can give advice," said Rizwan.
Upon reaching the ground, Rizwan received input from assistant coach Abdul Rahman, who noted that the pitch was favorable for batting. "When we reached the ground, Abdul Rahman who is also our coach and there were 2-3 more players with me, said, 'Rizwan this pitch looks like a batting pitch. When we were bowling, I think it was 32nd or 33rd over that time, I told (Mohammed) Nawaz and 2-3 other players, if we restrict Sri Lanka to 340-plus, then I hope it's the best. If it goes above that, it means we're not bowling well," he said.
Rizwan discussed his adaptability in various batting positions across different formats and credited this as a significant asset. He highlighted his experience opening in T20Is and batting at No. 4 in ODIs, which has provided a unique perspective on the game's dynamics.
"In T20, Misbah-ul-Haq asked me to open, now management gave me 4 number in the order for ODIs, maybe that's why I can see things. I think I had this thing from the beginning the ability to adjust to the demands of different positions in the batting order," he said.
During the partnership with Abdullah Shafique, Rizwan advised Shafique not to focus on the scoreboard. They followed a pre-planned strategy with specific targets for different phases of the innings, ensuring effective communication and calculated decision-making.
"I told Abdullah, 'Don't look at the board'. We kept following our plan, because there was a separate plan till 20 over, there was a separate plan till 30 and then there was a separate plan till 40 over. This is what we planned. In big chases we have had contributions from Babar Azam. Unfortunately, when he got out, then we chalked a plan that now till 20 overs, we would bat normally. It was this communication and calculation. The way Abdullah built the innings in the beginning, the kind of shots he hit, made it easy for us to chase the score," he said.
Last Updated Oct 11, 2023, 12:27 PM IST