Amid rumours of strained relation, Babar Azam gives Shaheen Afridi big hug at Pakistan pacer's wedding
In a heartwarming display of camaraderie, cricket icons Babar and Shaheen came together at the lavish wedding of Shaheen Shah Afridi.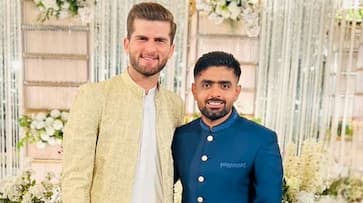 Heartwarming moment as Babar Azam embraces Shaheen Shah Afridi at his grand wedding ceremony. Amidst the ongoing speculation surrounding the relationship between Pakistan cricket team captain Babar Azam and star pacer Shaheen Shah Afridi, the cricketers put all doubts to rest with a touching reunion at Shaheen's wedding ceremony. Babar made a grand entrance at the wedding venue and warmly embraced Shaheen, who recently tied the knot with Ansha, the daughter of former Pakistan captain Shahid Afridi, shortly after the conclusion of the Asia Cup 2023.
Numerous images and videos capturing Babar and Shaheen's heartfelt moments during the event have surfaced on social media. Not only have these visuals dispelled the internet rumours, but they have also underscored the strong brotherly bond between the two players.
These captivating visuals not only served to debunk any lingering internet rumours about their relationship but also illuminated the profound brotherly bond shared by these two cricketing icons. The genuine warmth and camaraderie displayed at the wedding reaffirmed that the world of cricket extends far beyond the boundaries of the pitch, emphasising the enduring friendships forged in the pursuit of a shared passion.
Also Read: Shahid Kapoor's fun encounter with Pandya brothers during Ambani's Ganpati Puja
Last Updated Sep 20, 2023, 2:21 PM IST