Astrologer Sumit Bajaj's bold prediction for World Cup 2023 Final between India vs Australia
Renowned astrologer Sumit Bajaj, celebrated for his accurate forecasts, offers a compelling prediction for the upcoming World Cup 2023 final at Narendra Modi Stadium.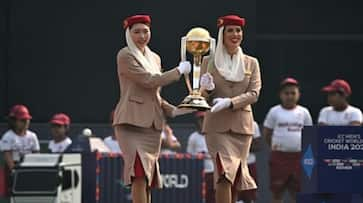 Astrologer Sumit Bajaj, renowned for his accurate predictions, has forewarned ahead of the highly anticipated final match, adding an intriguing dimension to the looming question: Who will emerge victorious in the World Cup final? Sumit Bajaj, with a track record of precise forecasts, provides his insightful prediction for the grand finale. Building on his history of spot-on predictions, Sumit Bajaj offers his perspective on the World Cup final, drawing on the outcomes observed during the semi-final clash.
The ICC World Cup final is poised to unfold at the illustrious Narendra Modi Stadium in Ahmedabad this Sunday, where cricketing giants India and Australia will vie for the coveted title of World Champion. India, with an impeccable record, has showcased an outstanding performance throughout the tournament, clinching victories in every match played so far. In the semi-final showdown, Team India triumphed over New Zealand, while Australia engaged in a thrilling battle against South Africa, emerging victorious by three wickets.
With cricket enthusiasts around the globe eagerly awaiting the pinnacle of the World Cup, attention is not only fixated on the players on the field but also on the predictions swirling in the realm of astrology. Amidst the fervor, astrologer Sumit Bajaj steps into the spotlight, presenting his forecast for the World Cup final. His prediction, unveiled on Saturday, adds an element of intrigue and anticipation to the impending clash, contributing to the broader narrative surrounding the final match. As the cricketing world holds its breath, Sumit Bajaj's insights bring an additional layer of excitement and speculation to the culmination of this thrilling tournament.
Also Read: Australia's Journey to the World Cup Final: Overcoming hurdles and soaring to eight consecutive victories
Last Updated Nov 18, 2023, 7:25 PM IST