Educating Urmila
'The answers are there, written on the wall. But she cannot read.'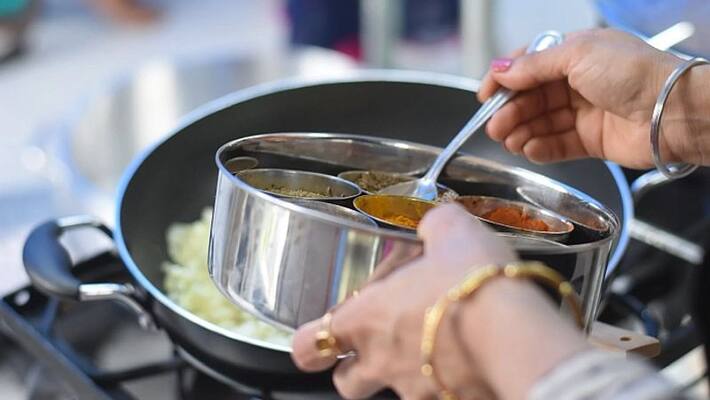 Urmila is a great cook. Be it parathas or rajma or idli. She can cook it all, in a jiffy and all to our taste. My house-help, without whom we all would go hungry. She has been cooking for us for more than five years. 
I stand nowhere near her in her culinary competencies. Her speed to clean, wash, chop, fry, saute, add the right masala, stir up the right blend to suit our taste buds remains exemplary. Consistent is the word!
My kids have grown up with her cooking. She knows their tastes and how they want their eggs fried or potatoes mashed. "Didi, please make maggie for me", "The egg curry you made was delicious," said the kids.
Her "thankchu" was consistent, too. Using words of English gave her a kick all of us in the family acknowledged what she spoke. "Acutally" being one of her favourites. She was willing that we upload her videos on "jutube". 
Covid, however, has locked down her abilities, forcing her to stay indoors. Alas, the smells do not emanate from my kitchen anymore. She is out of work like many others. We are deprived of 'ajwain'-accompanied paneer parathas with butter melting over them, spilling out from the sides. 
While I, as did many others, support her, her condition remains hand-to-mouth as not all employers pay her. 
Think out of the box, I told her. The pandemic has changed lives; you need to think about your means of earning a living. There are contenders out there dolling out tiffins for lunch and dinner. Restaurants and dhabas, apart. Get the breakfast market. Make a menu, send it to a few WhatsApp groups. Print it - put it out there. Paste it behind the regular sabziwala's pushcart. On the wall next to the grocery store. At the entry gate. Make yourself visible. I will post on Facebook, Tweet, make an Instagram story. Alas!
Educating Urmila is tough. She needs regular lessons on marketing, costing, portions, identifying the niche, designing flyers. She needs more than educating. She wants to but is unable to; she cannot muster the courage. She would rather work in a house and earn 2500 for every hour in a month. Dream Urmila of making 2500 rupees in a month in that hour.
Fly, think big, reach higher. I tell her.
"Bhabhi", what you say is correct. But how much do I charge? How much do I serve? Where do I get the boxes from? Who will make the menu? Who will write? How will I deliver? 
The answers are there, written on the wall. But she cannot read. 
The dilemma remains. How do I educate her?
How does she realize her power, potential, capability, talent?
How does she tap the market and realize the niche to her advantage?
How do we educate and empower the Urmila, who is a damn good cook! 
The author, Rohini Rode, is an additional language teacher at Pathways School, Noida. She is a believer in reducing the gap between haves and have-nots.
Last Updated Jun 21, 2021, 4:33 PM IST