Auto rickshaw strike on January 8, 9; union demands to refuse Ola, Uber rides
Aggregators like Ola and Uber have asked the auto rickshaw drivers attached to their services to demand 30,000 permits for new three-wheelers through their respective unions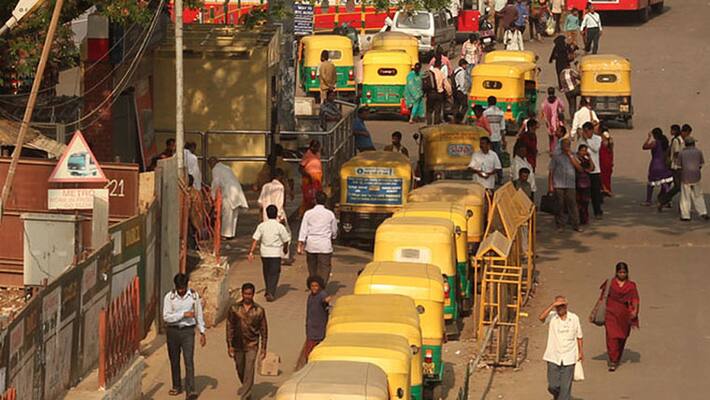 Bengaluru: Auto rickshaw drivers are likely to go on a strike on January 8, 9 urging the fulfilment of various demands. A notice has been put out by the Autorickshaw Drivers' Aikya Horata Samithi in this regard.
Auto rickshaws are likely to stay off the roads in Bengaluru these two days, and the drivers are set to stage a mass protest in Freedom Park.
The auto rickshaw drivers are staging protest mainly against aggregators' demand to issue license for 30,000 new autos.
With increasing demand, the aggregators like Ola and Uber are encouraging auto rickshaw drivers under their fold to demand permits for 30,000 new autos through their unions.
In fact, the Karnataka government has not issued permits for autos since 2011. Currently, there are said to be more than 1.90 lakh auto rickshaws in the city alone. But the reports state that government has given permission for only 1.25 lakh autos to ply on city roads.
Since the government has not given permission, there is a black market active in this regard, where Rs 25,000 to Rs 30,000 can be spent to acquire permits through a third party.
The government in May 2017, issued a ban on two-stroke auto rickshaws. But after re-considering it, the government renewed fitness certificates for two-stroke auto rickshaws till March 31, 2020.
The demands of auto rickshaw drivers include:
Permits to 30,000 new autos to be denied
Not implement Motor Vehicles Amendments bill 2017
RTO fares to be slashed and provide added benefits in auto insurance
Pension for auto rickshaw drivers above 60 years
Check on Ola and Uber rides fixing irrational rates
Last Updated Jan 2, 2019, 6:00 PM IST