Yikes! Internet squirms over Pizza Hut's new snake meat offering in Hong Kong
Pizza Hut introduces an unconventional pizza in collaboration with a century-old Hong Kong restaurant, combining snake stew elements in a 9-inch pie, reflecting a unique culinary approach.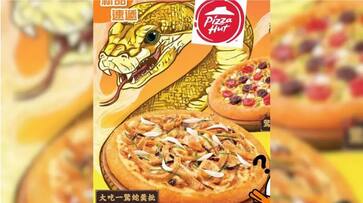 Consumers are familiar with a wide array of pizza flavours crafted from diverse ingredients. However, Pizza Hut has recently introduced a particularly distinctive pizza flavour in Hong Kong that defies conventional expectations. According to several reports, the American food chain has collaborated with a century-old restaurant in Hong Kong to put a modern twist on a traditional dish—snake on a pizza. This unique offering merges shredded snake meat, black mushrooms, and Chinese dried ham, all essential elements of an authentic snake stew. The innovation is part of the marketing strategy of the Hong Kong franchise to create a buzz online.
Snake stew is a delectable soup highly favored by people in Hong Kong and southern China, particularly during cold weather. Various kinds of snake stew exist, typically comprising snake meat and Chinese herbs. Some variants also include additional meats like chicken or pork.
In Hong Kong, people believe that snake soup is best enjoyed in cold weather, attributing qualities of benefiting the skin and providing warmth. Other regions in Southeast Asia, such as Vietnam and Thailand, also include snake meat in their diets. In these areas, snakes are often raised on farms specifically for consumption.
Pizza Hut has reportedly partnered with Ser Wong Fun, a historic snake restaurant in Central Hong Kong, which dates back to 1895, to devise this latest recipe. The 9-inch pizza, offering abalone sauce in place of the conventional tomato base, will be available for purchase until November 22.
The introduction of snake-meat pizza has left internet users disgusted. "No, Thank you," said one user on X, while another added, "Snake pizza... and still is less controversial than pineapple!"
Another netizen stated, "Yikes! Not trying snake pizza!"
A third noted, "The snake is probably less gross than it being Pizza Hut."
Last Updated Nov 9, 2023, 1:58 PM IST