WATCH: Video of Israel Air Force's precision strikes on Hamas targets goes viral
Israeli Air Force conducts airstrikes on Hamas targets after rocket attacks, with Prime Minister Netanyahu declaring a state of war, while Israel prepares to mobilize reserves in response to militant infiltration.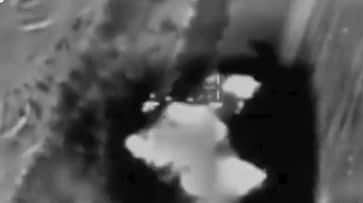 In response to a barrage of rockets fired by Hamas, Israeli Air Force jets conducted airstrikes on multiple Hamas targets. The Israel Defence Forces (IDF) released a video depicting missile and smart bomb strikes on these targets. The IDF issued a statement urging the public to adhere to the instructions provided by the Home Front Command, emphasizing that such compliance can save lives.
"Dozens of air force fighter jets attacked targets of the Hamas terrorist organisation in the Gaza Strip a short time ago. The IDF appeals to the public to obey the instructions of the Home Front Command, which save lives," the IDF said in the post on X.
According to emergency services, at least 22 Israelis have died in the unprecedented attacks on Saturday. Israel's health ministry stated that at least 545 people have been injured.
Israeli Prime Minister Benjamin Netanyahu declared that Israel was in a state of "war" with Hamas. He characterized Hamas' actions as a "murderous surprise attack" on Israel and its people. Netanyahu emphasized that this situation constituted a full-scale war rather than a limited operation or series of rounds. He announced an extensive mobilization of reserves and a significant military response, warning that the enemy would face an unprecedented price for its actions.
Israel's army reported that Gaza militants had entered Israeli territory through multiple means, including land, sea, and the use of paragliders. According to Israel army spokesman Richard Hecht, this infiltration involved a combined ground raid through paragliders, sea, and land. He confirmed that Israeli forces were engaged in active combat in certain locations around the Gaza Strip and acknowledged the presence of casualties but refrained from providing specific details. He also did not comment on reports of Israelis being captured by Palestinian militants.
Israel announced the mobilization of thousands of military reservists to address the situation in Gaza and other potential fronts, including northern Israel, Lebanon, Syria, and the occupied West Bank. This move signifies an escalated response to the ongoing conflict with Hamas.
Last Updated Oct 7, 2023, 3:48 PM IST