Unmasking Hamas leader Mohammed Deif's strategy behind Israel attack
The article reveals the planning and execution of a significant Hamas attack on Israel orchestrated by the secretive mastermind, Mohammed Deif, and highlights the secrecy, motivations, and historical context surrounding the operation.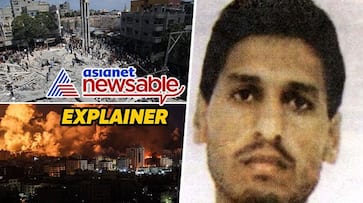 Israel dubs the recent catastrophic attack by Hamas its "9/11 moment," while the clandestine architect behind the operation, Palestinian terrorist Mohammed Deif, refers to it as "Al Aqsa Flood." This phrase was used by Israel's most sought-after figure in an audio recording broadcast as Hamas unleashed a barrage of rockets from the Gaza Strip on Saturday, signifying retribution for Israeli actions at Jerusalem's Al Aqsa mosque.
The genesis of the plan dates back to May 2021, following a raid on Islam's third holiest site that sparked outrage in the Arab and Muslim world. It was then that Deif embarked on the design of an operation responsible for over 1,200 casualties in Israel, as per a Reuters report, quoting a source affiliated with Hamas in Gaza.
According to the report, the Hamas operation's impetus stemmed from the distressing images and videos of Israel's actions during Ramadan, wherein they stormed Al Aqsa mosque, brutally confronted worshippers, and forcibly removed both elderly and young men from the sacred place. These events served as a catalyst, stoking and igniting widespread anger.
The incursion into the mosque complex, an enduring source of tension regarding matters of sovereignty and religion in Jerusalem, acted as a trigger, sparking an 11-day confrontation between Israel and Hamas.
Over two years later, the assault launched on Saturday, marking the most significant breach in Israeli defenses since the 1973 Arab-Israeli conflict, compelled Israel to proclaim a state of war and initiate counterattacks on Gaza. By Tuesday, these retaliatory strikes had claimed the lives of over 800 individuals.
Having survived seven Israeli assassination attempts, with the most recent being in 2021, Deif is known for his extreme reticence and absence from the public eye. Hence, when Hamas's TV channel announced his forthcoming address on Saturday, it signaled that something of great significance was unfolding.
In his recorded statement, Deif declared, "Today, the fury of Al Aqsa, the fury of our people and our nation, is erupting. Our mujahedeen (fighters), today is your day to make this perpetrator comprehend that his time has concluded."
Only three visual representations of Deif exist: one depicting him in his twenties, another with his face concealed, and the last, an image of his shadow, which was employed when broadcasting the audio tape.
Deif's current location remains a mystery, but it is highly probable that he is concealed within the labyrinthine tunnel network beneath Gaza. An Israeli security source affirmed to Reuters that Deif's direct involvement in both the planning and execution of the attack.
Dual minds, a single architect
According to the Reuters report quoting Palestinian sources, one of the homes struck by Israeli air raids in Gaza overnight was owned by Deif's father. The attack reportedly resulted in the deaths of Deif's brother and two other family members.
The insider affiliated with Hamas also revealed to Reuters that the decision to orchestrate the attack was a collaborative effort, involving both Deif, who heads Hamas's Al Qassam Brigades, and Yehya Sinwar, the leader of Hamas in Gaza. Nevertheless, it was evident who held the role of the primary architect.
"There are two brains, but there is one mastermind," the source elucidated to Reuters, emphasizing that information regarding the operation was privy to only a select few Hamas leaders.
The level of secrecy was so high that even Iran, Israel's staunch adversary and a significant provider of funding, training, and arms to Hamas, was only aware in broad terms that the group was preparing a major operation. The timing and specific details remained unknown to them, as reported by a regional source with insight into the organization's thought process.
The Reuters source elucidated that although Tehran had knowledge that a major operation was in the works, it was not a topic of discussion in any shared operation rooms that included Hamas, the Palestinian leadership, Iranian-backed Lebanese militants of Hezbollah, and Iran. "It was a very tight circle," the source told the news agency.
On Tuesday, Iran's paramount authority, Ayatollah Ali Khamenei, asserted that Tehran had no involvement in the attack on Israel. In contrast, Washington maintained that while Tehran may have been complicit, there was no available intelligence or evidence suggesting Iran's direct participation in the attacks.
Deif's strategy revolved around an extended campaign of deception. Israel was deliberately misled to think that Hamas, despite being allied with Israel's arch-nemesis Iran, had no intention of initiating a conflict. Instead, it was purportedly concentrating on fostering economic growth in Gaza, where the group held governing authority.
Simultaneously, as Israel commenced offering economic incentives to workers in Gaza, unbeknownst to them, Hamas was actively engaged in training and preparing its fighters, often conducting these activities within plain view of the Israeli military, as disclosed by a source with close ties to Hamas.
Ali Baraka, the head of external relations for Hamas, declared, "We have diligently readied ourselves for this confrontation over a span of two years."
In a composed tone, Deif conveyed in his recording that Hamas had consistently issued warnings to Israel, urging it to cease its actions against Palestinians, to release prisoners who had allegedly endured abuse and torture, and to discontinue the appropriation of Palestinian territory.
"Every day the occupation storm our villages, towns and cities in the West Bank and raid houses, kill, injure, destroy and detain. At the same time, it confiscates thousands of acres of our land, uproots our people from their houses to build settlements while its criminal siege continues on Gaza," he continued.
Operating in the shadows
In the West Bank, a region approximately 100 km (60 miles) in length and 50 km in width, turmoil has persisted for over a year. This area has been the epicenter of the Israeli-Palestinian conflict since it was captured by Israel in 1967. Deif conveyed that Hamas had implored the international community to intervene and terminate the "crimes of the occupation." However, Israel escalated its provocations. He also noted that Hamas had previously approached Israel with a humanitarian proposal to release Palestinian prisoners, which had been rebuffed.
"In light of the orgy of occupation and its denial of international laws and resolutions, and in light of American and western support and international silence, we've decided to put an end to all this," the Hamas operative added.
Born as Mohammad Masri in 1965 in the Khan Yunis Refugee Camp, established after the 1948 Arab-Israeli War, the terrorist outfit leader adopted the name Mohammed Deif upon his affiliation with Hamas during the inaugural Intifada, a Palestinian uprising, commencing in 1987. In 1989, he was reportedly apprehended by Israeli authorities and detained for approximately 16 months.
Deif obtained a degree in science from the Islamic University in Gaza, where he pursued studies in physics, chemistry, and biology. Interestingly, he also demonstrated an inclination for the arts, assuming leadership of the university's entertainment committee and participating in comedic performances on stage.
Ascending through the ranks of Hamas, Deif was instrumental in cultivating the organization's network of tunnels and enhancing its proficiency in bomb-making. For numerous decades, he has remained at the pinnacle of Israel's most-wanted list, personally held accountable for the fatalities resulting from numerous suicide bombings.
Maintaining a life concealed in the shadows has been a vital matter of survival for Deif. According to Reuters, quoting Hamas sources, he suffered the loss of one eye and sustained severe injuries to one of his legs during one of Israel's attempts on his life.
His wife, along with his 7-month-old son and 3-year-old daughter, fell victim to an Israeli airstrike in 2014. His ability to endure while leading Hamas's armed division has bestowed upon him the stature of a Palestinian icon. In videos, he remains obscured behind a mask, or only a shadowy presence is discernible. Reports suggest he abstains from using contemporary digital technology, including smartphones.
"He is elusive. He is the man in the shadows," a source close to Hamas told Reuters.
Last Updated Oct 11, 2023, 6:48 PM IST