UK's 16-feet 'Strength of Hijab' statue: Sculptor Luke Perry talks about its importance ahead of unveiling
A sculpture celebrating women who wear hijabs, titled "Strength of the Hijab," is set to be unveiled in Birmingham next month, the first of its kind globally, designed by Luke Perry.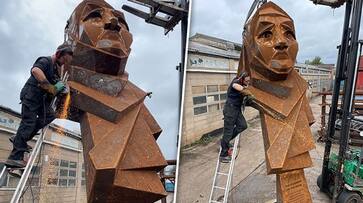 In a groundbreaking initiative, UK's Birmingham is set to unveil a sculpture next month that celebrates women who wear hijabs, as reported by the BBC. This unique artwork, dubbed "Strength of the Hijab," is believed to be the world's first of its kind. Designed by Luke Perry, the sculpture will be installed in the Smethwick area of the West Midlands in October.
The "Strength of the Hijab" sculpture stands at an impressive five meters (16 feet) in height and weighs approximately one tonne, according to the BBC. Luke Perry, the designer, shared his motivation, stating, "The Strength of the Hijab is a piece which represents women who wear hijabs of the Islamic faith, and it's really there because it's such an underrepresented part of our community, but such an important one."
"They need visibility, it's so important, so working with the community to come up with the designs has been really exciting because we didn't know what it was going to look like until now," he told The National.
The chosen location for this sculpture, Smethwick, is home to a substantial Islamic community where the hijab is a significant aspect of their identity. Perry noted that this community is often underrepresented and explained, "It's something which people feel very strongly about, identify with, [and] they feel happy about and comfortable with." However, it is not frequently seen in public art, let alone as part of a heroic narrative. Perry expressed his enthusiasm for celebrating those who are often overlooked and under-celebrated.
Luke Perry has previously worked on the "Black British History is British History" sculpture, in collaboration with Canaan Brown, which was installed in nearby Winson Green in May. Unfortunately, that artwork was defaced shortly after its installation. Perry acknowledged the potential for controversy surrounding the new sculpture but stressed its importance for representation. He stated, "There's a possibility that this piece could be controversial for many different reasons. I don't feel like any of them are valid, but people do."
Perry highlighted the importance of unity in a diverse society, emphasizing that representation across the UK is crucial for our shared future.
The initial reactions to the sculpture have been overwhelmingly positive, even though most people have only seen photographs of it and not the sculpture in person. Perry noted, "I think people are really impressed by the size, certainly, but the level of detail, I think has surprised people too, and that's really satisfying. I think it's going to be a loved part of the community."
This remarkable sculpture, made of steel and commissioned by the Legacy West Midlands charity, will undergo galvanization before its completion, further ensuring its durability and lasting impact.
Last Updated Sep 21, 2023, 12:36 PM IST