Stunning! 9 time lapse videos of Northern Lights that is dazzling the internet; Watch here
A passenger on a flight from Alaska to Washington was able to capture a stunning time-lapse video of the Northern Lights while the airplane zoomed across the night sky. Time lapse videos of the Northern Lights have surfaced online. Check out.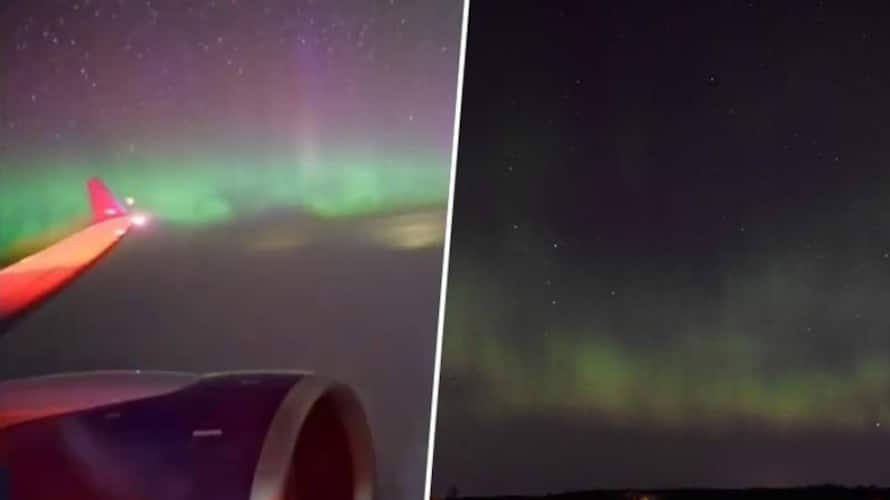 On a journey from Alaska to Washington, a passenger was able to record an incredible time-lapse video of the Northern Lights as the aircraft flew swiftly over the night sky. Alexander Falconer claimed to have spotted the spectacular show while en route from Fairbanks to Seattle.
A vivid green aurora and magenta fringes that seep into the starry sky are depicted. Falconer claimed that it took him roughly three hours to manually record the time-lapse footage. 
The Northern Lights are one of the most stunning displays the planet can provide. Since then, numerous videos of the Northern Lights have surfaced online.
Also Read | Pakistan ploy to disrupt discussion on Kashmir in the US foiled (Watch)
Check out stunnig videos here: 
Coronal mass ejections and solar flares are solar phenomena that are frequently followed by vivid displays of the northern lights. The flares release a flood of electrons that interact with the oxygen and nitrogen in the magnetic field that encircles the planet. And the colors vary by the type of gas present. Oxygen molecules give off a green or yellow glow or sometimes can give off a bit of a red hue, according to NASA.
Also Read | World Bank Presidential candidate Ajay Banga, in India to meet PM Modi, tests positive for COVID-19
The Northern Lights are often seen in Alaska or Canada at higher latitudes, although they have occasionally been observed as far south as California, Nevada, and even Texas during major solar flares.
 
Last Updated Mar 24, 2023, 12:40 PM IST