Russian President Vladimir Putin set to run for re-election in 2024, could extend rule until 2030: Report
Report suggests Vladimir Putin plans to run for re-election in 2024, potentially extending his presidency until 2030, amidst ongoing political dynamics and opposition challenges.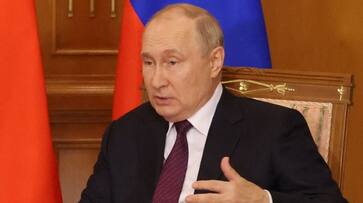 Russian President Vladimir Putin is reportedly preparing to seek re-election in the 2024 Russian elections, extending his hold on power until 2030, as per a report in The Telegraph. Although the news has not been officially confirmed by his office, anonymous Kremlin sources have shared this information with the publication, noting that a public announcement is imminent.
Putin, currently 71 years old, has been a dominant figure in Russian politics since 1999 when he assumed the presidency, succeeding Boris Yeltsin. His tenure has already surpassed that of any Russian leader since Josef Stalin.
"The decision has been made - he will run," quoted a source with knowledge of the planning, according to the outlet.
The next round of presidential elections in Russia is scheduled for March 2024, and as Kremlin spokesperson Dmitry Peskov stated in September, should Putin decide to run, there would be no formidable competition.
Also read: BOLD predictions of 'New Nostradamus': Pakistan will merge with India; Delhi-Russia ties to end (WATCH)
According to the Russian Constitution, the President is elected to a six-year term, meaning that if Putin seeks re-election, he will continue to hold the country's highest office until 2030.
In 2021, Putin signed a law amending the constitution, which imposed a limit of two presidential terms for Russian citizens. However, the law did not apply retrospectively, allowing Putin to run for two more terms.
The Telegraph's report suggests that Putin's decision to remain in power is motivated by the desire to navigate Russia through one of its most turbulent periods in decades, marked by the country's invasion of Ukraine in February of the previous year.
Despite this longevity in power, Putin maintains a high level of approval within Russia, with his ratings standing at around 80 percent.
In contrast, Alexei Navalny, a prominent opposition politician and a vocal critic of Putin, is currently incarcerated. The 47-year-old is serving lengthy prison sentences, potentially keeping him behind bars for many years unless he is released prematurely.
Last Updated Nov 7, 2023, 7:49 PM IST