'Rocket aimed at Israel misfired...' IDF shares clips showing who struck Al-Ahli Baptist Hospital (WATCH)
Israel Defense Forces present evidence regarding the destruction of the Al-Ahli Baptist Hospital in Gaza. The IDF asserts that the blast was the result of a misfired rocket by Gaza-based terrorists, challenging initial reports of IDF involvement.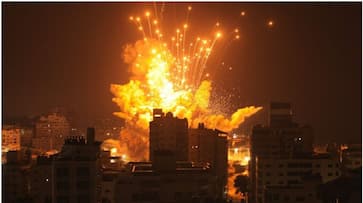 The Israeli Defense Forces (IDF) has presented evidence indicating that it was not responsible for the blast at the Al-Ahli Baptist Hospital in the Gaza Strip. According to the IDF, a misfired rocket launched by Gaza terrorists led to the explosion at the hospital, contradicting initial reports from Hamas health authorities that claimed hundreds of deaths. The IDF spokesperson, Rear Adm. Daniel Hagari, stated that their radar detected outgoing rocket fire at the moment the blast occurred at the Gaza hospital.
Intercepted communications between terror groups also pointed to Islamic Jihad as the responsible party for firing the rockets. The IDF's investigation concluded that there were no air force, ground, or naval attacks in the vicinity of the hospital at the time of the explosion.
To support their claims, Hagari shared aerial footage captured by a military drone, which showed that the blast was inconsistent with Israeli weaponry and occurred in the hospital's parking lot.
During the ongoing conflict, the military issued a statement indicating that approximately 450 rockets, launched by terrorist groups at Israel, have inadvertently landed in Gaza, posing a risk to and causing harm to the lives of Gazan residents.
However, Islamic Jihad has rejected these assertions, alleging that Israel is making significant efforts to deflect responsibility for the tragic incident it instigated.
Several videos circulating online appear to show the moment when a rocket misfired and exploded inside Palestinian territory. This includes footage from Kibbutz Netiv Haasara, illustrating a rocket misfire landing in Gaza.
Israeli Prime Minister Benjamin Netanyahu emphasized that the responsibility for the attack lies with Gaza-based terrorists and not the IDF. President Isaac Herzog called accusations that Israel had targeted the hospital a "blood libel" and pointed out that it was an Islamic Jihad missile that caused the tragedy.
Since the conflict began, the IDF reported that approximately 450 rockets fired at Israel by terror groups had landed in Gaza, posing a threat to the lives of Palestinian residents.
Last Updated Oct 18, 2023, 9:35 AM IST