'Look how many Jews I killed; Mom, your son is a hero...' IDF releases chilling audio of Hamas terrorist
Israeli Defense Forces released a recording of a terrorist involved in the October 7 attack in southern Israel, where he enthusiastically informed his parents of killing Jews. The man, identified as Mahmoud, boasted about his actions and urged his family to check his WhatsApp messages for evidence.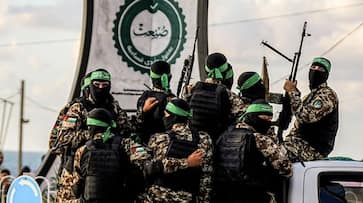 The Israeli Defense Forces have released a recording of a Hamas terrorist who participated in the October 7 attack in southern Israel, where he proudly informed his parents about killing Jews. This comes as part of Israel's ongoing efforts to disclose additional details about the deadly assault earlier this month. During the call, the man expresses his excitement as he tells his parents that he is in Mefalsim, a kibbutz near the Gaza border, and takes credit for killing 10 Jews all by himself.
He exclaims, "Look how many I killed with my own hands! Your son killed Jews!" as translated into English. Later, he adds, "Mom, your son is a hero."
In the conversation, his parents can be heard praising him. The terrorist, identified by his father as Mahmoud, explains that he is making the call using the phone of a Jewish woman he has just killed and urges his family to check his WhatsApp messages for additional evidence.
"I wish I was with you," expressed the mother in the recorded audio.
The audio was presented at the UN Security Council by Foreign Minister Eli Cohen.
The release of this call occurred one day after the screening of approximately 43 minutes of distressing footage depicting acts of murder, torture, and decapitation during the recent Hamas massacre in southern Israel. This footage was compiled from various sources, including call recordings, security cameras, body cameras worn by Hamas terrorists, dashboard cameras from victims, content from Hamas and victims' social media accounts, as well as cellphone videos recorded by terrorists, victims, and first responders. The violence resulted in the loss of over 1,000 civilian lives and the abduction of at least 224 people by the terrorists.
The government announced its decision to share a portion of its gathered records with journalists to counter what a spokesperson described as "an ongoing phenomenon akin to Holocaust denial." Doubts have arisen worldwide regarding some of Hamas's most gruesome atrocities, and the government aims to address these concerns.
Last Updated Oct 25, 2023, 9:04 AM IST