Less than 48 hours left to avoid US government shutdown: Implications, disruptions and challenges explained
Lawmakers are nearing a government shutdown in the United States as the deadline for government funding expiration on September 30 approaches. With no agreement in sight, federal agencies are preparing to furlough hundreds of thousands of workers until funding is reinstated.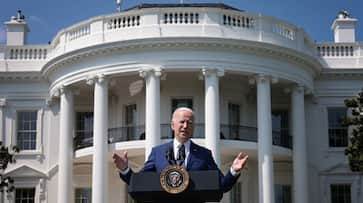 Amid a political deadlock over demands for deep public spending cuts by Republicans, the United States is on the brink of a government shutdown, with less than 48 hours left to avoid a major crisis. The impasse has its roots in stark ideological divisions among House Republicans. The impending crisis looms as funding for federal agencies is set to expire at midnight on September 30, requiring the US Congress to pass 12 appropriations bills promptly to fund government operations for the new fiscal year starting on October 1.
This funding battle revolves around a relatively small portion of the $6.4 trillion US budget for the current fiscal year.
To avert furloughs for hundreds of thousands of federal workers and the interruption of various services, including economic data releases and nutrition benefits, the US Congress must pass legislation that can be signed into law by President Joe Biden by midnight on Saturday (0400 GMT on Sunday). This would mark the fourth government shutdown in the last decade.
The last time the federal government faced this situation was in 2018 when it resulted in a 35-day shutdown that extended into 2019.
House Republicans have rejected the spending levels negotiated by Speaker Kevin McCarthy and President Biden for fiscal year 2024, which amounted to $1.59 trillion in discretionary spending.
Republicans are now demanding an additional $120 billion in cuts and more stringent legislation to address immigration issues at the US-Mexico border. Notably, cuts to popular benefit programs like Social Security and Medicare are not under consideration.
The Senate has proposed a stopgap funding measure that would extend federal spending until November 17. It also authorizes approximately $6 billion each for domestic disaster response funding and aid to Ukraine for defense against Russia.
On Thursday, the Senate and the House of Representatives were poised to advance conflicting government funding plans, increasing the likelihood of the fourth partial shutdown of the federal government.
The Senate scheduled a procedural vote on a stopgap funding bill with broad bipartisan support. Simultaneously, the House of Representatives was set to vote late at night on four partisan appropriations bills that are unlikely to become law.
Speaker Kevin McCarthy is under immense pressure from his caucus to achieve their objectives, with some hardliners threatening to remove him from his leadership position if he passes a spending bill that relies on any Democratic votes for passage.
The US economy displayed a robust 2.1% growth rate in the second quarter and appears to be gaining momentum in the current quarter, driven by a resilient labor market and substantial wage increases. Growth estimates for the July-September quarter are as high as 4.9%. However, the possibility of a US government shutdown in the fourth quarter could lead to a sharp economic slowdown.
A look at what closes and what keeps running if US government shutdown comes into play
1. Immediate Impact in D.C.: The effects of a shutdown will be felt quickly in Washington, D.C. Smithsonian facilities will remain open until funds run out, potentially affecting events like the farewell to the National Zoo's giant pandas. The National Park Service's "Fat Bear Week" might also be disrupted.
2. Nationwide Impact: As employees go without pay and programs exhaust their funding, the impact of the shutdown is expected to ripple across the country.
3. Congress Continues Working: Interestingly, despite the shutdown, Congress will continue working without pay, including its support staff.
4. Federal Workers and Contractors Affected: Approximately 2.1 million civilian federal workers could face delayed paychecks, while around 4 million federal contract workers may receive no pay during the shutdown. Food assistance programs and organizations like the Capital Area Food Bank are preparing to support potentially up to 100,000 affected federal workers.
5. Nutrition and Food Assistance Programs at Risk: Programs like SNAP and WIC, operated by the Agriculture Department, could face disruptions, impacting nearly 7 million beneficiaries. SNAP benefits for October will be distributed as usual, but November's benefits remain uncertain.
6. Social Services and Education: Services like Head Start and Meals on Wheels, which provide education and meals to children and the elderly, respectively, could also be interrupted.
7. National Parks Expected to Close: Visitor centers, campgrounds, research facilities, and museums within national parks may close during the shutdown, potentially affecting planned events and Indigenous People's/Columbus Day celebrations.
8. Healthcare Continues, Research Pauses: Healthcare recipients, including Medicare and Indian Health Service beneficiaries, should not experience interruptions. However, community health centers reliant on federal grants may need to reduce services or staff depending on the shutdown's duration. Federal health agencies, like the National Institutes of Health, could furlough significant portions of their staff.
9. Service Members Work Without Pay: Around 1.3 million active-duty service members would continue working without pay, affecting their next payday on September 29th. Military commissaries would remain open for a limited time before potentially closing.
10. Impact on Federal Law Enforcement: A lack of funding would hinder federal agencies' participation in various task forces, including those dealing with human trafficking, terrorism, and drug violations, according to the Federal Law Enforcement Officers Association.
In summary, a government shutdown is looming, and its effects will range from the immediate closure of federal facilities to delayed pay for millions of federal workers and contractors, disruptions to vital programs, and potential impacts on national security and law enforcement efforts.
Last Updated Oct 2, 2023, 1:56 PM IST