'Kfar Aza looks apocalyptic; kids, women dragged out of houses and executed...' IDF on Hamas warcrimes (WATCH)
The death toll in Israel has reached 1,200 due to attacks by Hamas, with a majority of casualties being civilians. International media witnessed the aftermath in a Gaza Strip community, highlighting the atrocities committed by Hamas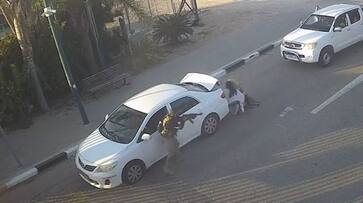 The death toll in Israel due to the attacks orchestrated and executed by the Palestinian terrorist group, Hamas, has risen to 1,200, with a significant majority of the victims being civilians, and over 2,700 people wounded. 
Providing updates on the fourth day of the Israeli counteroffensive against Hamas positions in the Gaza Strip, IDF Reserve Spokesperson Jonathan Conricus clarified that this increase in casualties is not a result of ongoing Hamas attacks on Israeli citizens. Instead, Israeli forces are still recovering the bodies of those brutally killed by Hamas terrorists during their initial assault on Saturday.
Israeli authorities guided international media to a Kibbutz (community) near the Gaza Strip, which had been devastated by the actions of Hamas terrorists. The scene was described as resembling a post-apocalyptic setting, with bodies strewn in the streets, homes reduced to ashes, and vehicles riddled with bullet holes. 
Men, women, children, and the elderly had been forcibly removed from their homes and executed on the streets. Many residents of this Kibbutz were proponents of coexistence and peace, with connections to people in Gaza, where workers were permitted to labor in their fields. Despite this, Palestinian terrorists singled out this community for their attacks, laying bare the atrocities committed by Hamas.
The IDF emphasized that the hostage situation in Gaza is not solely an Israeli concern, as a number of hostages originate from various foreign countries. 
The IDF spokesperson pointed out, "This issue affects many countries in the free world. Among those held are Americans, Britons, French, Germans, Brazilians, Italians, and citizens of many other nations, all of whom Hamas has forcibly brought into Gaza."
Israeli forces claimed to have reestablished control in the area surrounding the Gaza Strip.
Last Updated Oct 11, 2023, 10:44 AM IST