Israel is not thirsty for Palestinian blood, says son of Hamas founder as he unmasks 'criminals' truth - WATCH
In a video shared by the Israel Defense Forces (IDF), the son of one of Hamas' founding leaders, Mosab Hassan Yousef, sends a message regarding the plight of Gaza, the terrorist group's action and their impact on the lives of Palestinian people.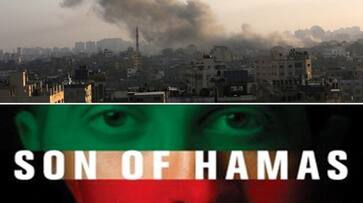 Amid the raging Israel-Hamas war, Mosab Hassan Yousef, the son of Sheikh Hassan Yousef, one of the founding leaders of Hamas, has delivered a powerful message shedding light on the longstanding suffering of the people of Gaza and the role played by the Palestinian terrorist organisation in perpetuating their misery. "The people of Gaza are oppressed for so long and they had to endure siege, they had to endure violence, many wars for the sake of Hamas' lust for power and for Hamas' political ambition," said the author of the book 'Son of Hamas' in a video shared by the Israel Defense Forces (IDF).
Mosab Hassan Yousef, who was groomed from a young age to take a leadership position within the organization, rejected Hamas' political and military objectives later on in life and adopted Christianity.
Also read: Hamas admits: Iran and Hezbollah helped execute October 7 attack on Israel (WATCH)
In the video message, Mosab Hassan Yousef argued that Hamas has repeatedly initiated conflicts every few years, often tied to financial motives, and in doing so, put countless innocent lives at risk, including children. One tragic incident that underscores the dire consequences of these actions is the single misfire that resulted in the loss of hundreds of refugees seeking shelter at a hospital. Rather than taking responsibility, Hamas tends to blame Israel for these tragedies, a tactic that the 'Son of Hamas' author characterizes as an attempt to manipulate the narrative.
"They (Hamas) start a war every few years, whenever they want money. They shed children's blood. This is their game. Single misfire killed hundreds of refugees taking shelter at a hospital and they blame Israel. What are we talking about here? Israel is a democracy, Israel is accountable, Israel is not thirsty for the Palestinian blood. The Palestinian children, the Palestinian society has been hijacked by these criminals and anybody who takes their side is participating in their crime," he said.
Addressing Hamas directly, Mosab Hassan Yousef admonishes them for risking the lives of defenseless civilians who entrusted them to govern with their best interests in mind. He highlights the stark contrast between the leadership's comfortable lifestyle and the suffering of Gaza's refugees, who have been left to endure dire conditions.
Also read: Israel-Hamas war: 230 empty beds and cribs in Jerusalem amplifies the gravity of hostage crisis (WATCH)
He said, "A message to Hamas: you risk the lives of defenseless civilians, who entrusted you to govern them, not to use them as human shields. You lived in luxury while refugees in Gaza starved. You valued your ideals, more than you valued human life. Your useless effort has always been to destroy Israel, not to build a Palestinian nation."
While acknowledging the tragic loss of civilian lives, the Mosab Hassan Yousuf places the blame squarely on Hamas for its actions and decisions, making it clear that the bloodshed is a result of their policies. "Unfortunately, now Hamas left Israel and the free world as well, with no choice but to fight them and put an end for their violence. Many civilians are dying, I understand this. Their blood is on the hands of Hamas and Hamas only," he concluded.
Last Updated Nov 1, 2023, 11:36 AM IST