Israel-Hamas war: Death toll goes past 1100, airstrikes on Hamas sites in Gaza intensify
The Israel-Hamas war has claimed over 1100 lives, with Israeli forces countering Hamas attacks. Airstrikes target Hamas assets, and families seek answers for missing loved ones, including foreign citizens. Get the latest updates on this harrowing crisis.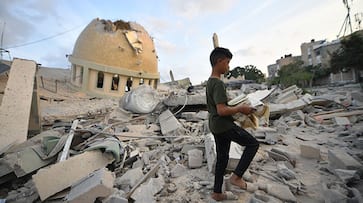 The death toll in the Israel-Hamas war has tragically surpassed 1100 as the Israeli Defence Forces launched a major counter-offensive on Gaza following the blitzkrieg attack launched by Hamas on Saturday. At least 700 people have reportedly been killed in Israel while in Gaza over 400 deaths have been reported. Israeli forces remain engaged in intense battles with Hamas fighters as they work to clear out communities along the border, uncovering more Israeli casualties in the process. Shockingly, over 2,100 people in Israel have already suffered injuries during this devastating crisis.
The Israel Defense Forces (IDF) have launched a new wave of airstrikes within the Gaza Strip, targeting assets belonging to the Hamas terror group. These airstrikes include naval positions, as the Israeli Navy takes action against Hamas in the Gaza Strip. The IDF has released footage depicting the moment of these strikes, emphasizing the use of "accurate munitions" fired from a Navy vessel to target Hamas's naval assets.
Meanwhile, amidst the chaos and tragedy, distraught family members are desperately searching for their missing loved ones. Many young Israelis are unaccounted for, having been either massacred or kidnapped to Gaza by Hamas terrorists during a sudden and devastating assault. These families express feelings of abandonment by the government during this distressing time.
The surprise attack, which occurred near Kibbutz Re'im close to the border, saw thousands attending an all-night rave. This event was just one of several sites targeted by terrorists who had infiltrated from the Gaza Strip. Social media platforms have been inundated with horrifying videos depicting individuals, including men, women, and children, being forcibly taken into the Strip, with signs of abuse apparent. Tragically, videos of deceased Israelis, including soldiers, have also been shared.
Several countries, including France, Germany, and Belarus, have confirmed that their citizens were caught in the offensive initiated by Hamas on Saturday. As families grapple with the profound sense of abandonment, they demand answers and updates about their missing relatives. Their united goal is to bring back their loved ones and captives, underscoring the need for support and contact with representatives during this harrowing period.
Last Updated Oct 9, 2023, 8:30 AM IST