Israel's cutting-edge 'Sa'ar 6' missile ships unleash precision attacks on Hamas targets (WATCH)
The article discusses how the IDF's state-of-the-art 'Saar 6' missile ships, equipped with advanced weaponry and precision capabilities, have played a crucial role in conducting targeted attacks on Hamas facilities in the Gaza Strip, enhancing Israel's maritime defense capabilities.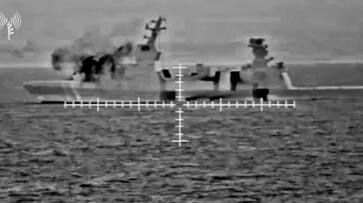 In a significant development within the Israeli Defense Forces (IDF), the latest 'Sa'ar 6' missile ships, Ahi Oz and Ahi Magen, have played a pivotal role in recent military operations, conducting precision attacks from the sea surface on Hamas targets in the Gaza Strip. These state-of-the-art naval vessels have significantly enhanced the operational and offensive capabilities of the Israeli Navy and IDF.
The 'Sa'ar 6' model ships are a testament to Israel's commitment to maintaining a robust and technologically advanced defense posture. The IDF's ongoing efforts to bolster its naval capabilities have led to the successful deployment of these highly advanced missile ships.
Also read: Gruesome discovery: Israeli forensic team unearths atrocities of unprecedented horror in kibbutz Be'er
As part of recent operations, these 'Sa'ar 6' missile ships targeted multiple facilities linked to Hamas, the Palestinian terrorist organisation that launched an unprovoked attack on Israel on October 7. The attacks included the striking of a weapons production facility, an outpost, and an observation post affiliated with Hamas's naval forces.
One of the key strengths of the 'Sa'ar 6' vessels is their advanced weaponry. These missile ships are equipped with 18 cutting-edge combat systems developed by Blue and White, making them among the most technologically advanced in the world. Their precision and accuracy in targeting make them formidable assets in the IDF's arsenal.
Over the past two years, the IDF has been actively developing and deploying the 'Sa'ar 6' ships, expanding their operational capabilities. This meticulous process, marked by rigorous exercises and training, has culminated in the recent successful deployment of these ships in active conflict zones.
Also read: Amid war with Israel, Hamas operative's GoPro video captures rampage and ultimate death (WATCH)
In recent months, three 'Sa'ar 6' type ships have completed separate processes, reinforcing Israel's maritime strength and further solidifying its ability to defend against emerging threats. The 'Sa'ar 6' ships are not only a demonstration of Israel's commitment to safeguarding its national security but also serve as a deterrent to potential aggressors in the region.
The successful deployment of the 'Sa'ar 6' missile ships highlights Israel's dedication to maintaining a strong and technologically advanced military, capable of safeguarding its interests and protecting its citizens from evolving security challenges in the region.
In response to attacks by Hamas, Israel has initiated a brutal counter-offensive on Gaza. Israeli forces provided a deadline for over a million Gazans to evacuate south for safety before a planned ground assault on north Gaza began. However, concerns have arisen about a potential humanitarian crisis in Gaza due to the ongoing offensive.
Israel has claimed that Hamas is preventing Gazans from fleeing to safety, effectively using them as human shields against Israeli counter-attacks. The Israeli military reported that 199 people have been confirmed as kidnapped by Hamas, further complicating the situation. Israel has also announced its intention to avoid striking two roads in the Gaza Strip designated for residents to move south, out of harm's way during a possible ground offensive.
The continuous bombardment of Gaza has resulted in a devastating toll, with more than 2,670 people, including over 700 children, losing their lives. Additionally, over 1,400 Israelis have lost their lives, with hundreds kidnapped since the horrifying attack began. The conflict continues to escalate, with grave consequences for both sides.
Also read: Surviving terror: Jonathan Diller's harrowing account of Nova Festival massacre by Hamas in Israel (WATCH)
Last Updated Oct 16, 2023, 9:57 PM IST