Israel begins Gaza siege; Hamas warns of public execution of hostages
The ongoing conflict between Israel and Hamas in the Gaza Strip has intensified as Israel continues to conduct airstrikes and implement a comprehensive siege, while Hamas threatens to execute Israeli hostages. The situation has led to a rising death toll and mounting casualties.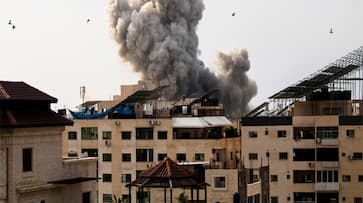 Israel is persisting with its airstrikes in the Gaza Strip, with Prime Minister Benjamin Netanyahu issuing a stern warning that the consequences of Hamas' recent actions will echo through generations. 
Reports from the media reveal that Israel has targeted a total of 1,707 locations in Gaza since the recent escalation, including 475 rocket systems, 73 command centres, 23 vital infrastructure sites, and 22 underground facilities. This continued military action coincides with ongoing rocket attacks on Israeli communities, resulting in casualties.
Defence Minister Yoav Gallant has announced a comprehensive siege of the Gaza Strip, which includes disruptions to electricity, food, and fuel supplies, as well as the closure of all entry points. Gallant stated that this aggressive stance is a crucial step in safeguarding Israel's future in the region. Additionally, he emphasized that imposing a heavy cost on the enemy is imperative.
In response to the siege announcement, Hamas has issued a chilling threat to execute Israeli hostages it has captured. The spokesperson for Hamas's Izz ad-Din al-Qassam Brigades warned that any attacks on their people, even in the safety of their homes and without warning, would result in the public execution of civilian hostages, to be broadcast with video and audio.
Israel's Home Front Command has advised its citizens to ensure they have a minimum 72-hour supply of food, water, medicine, and emergency equipment in anticipation of a potentially lengthy campaign. They are also encouraged to identify the nearest bomb shelters and establish clear routes to reach them.
Energy Minister Israel Katz has ordered the immediate cutoff of water supply to the Gaza Strip, in addition to halting the flow of power and fuel. The United Nations has expressed deep concerns about the deteriorating humanitarian situation arising from Israel's siege order. UN Secretary-General Antonio Guterres has stressed the importance of conducting military operations in accordance with international humanitarian law.
As the conflict escalates, the death toll continues to rise on both sides. Israel has reported over 900 casualties, including 73 soldiers and officers, while the Gaza Strip has witnessed 687 fatalities, including 140 children, according to the Palestinian health ministry. The number of wounded individuals is also steadily increasing, with hundreds requiring critical medical attention.
Tensions have also flared along Israel's northern border with Lebanon, marked by mortar fire, Hezbollah threats, terrorist infiltrations, IDF counterstrikes, and advisories for residents to seek shelter.
Last Updated Oct 10, 2023, 8:19 AM IST