IDF eliminates Abu Murad, the top Hamas leader who directed terrorists in October 7 massacre (WATCH)
The Israel Defense Forces (IDF) successfully targeted and eliminated a senior Hamas member, Murad Abu Murad, who held a key position overseeing the terror group's aerial operations. The IDF alleges his involvement in directing terrorists involved in a recent attack, which saw infiltrators entering Israel using hang gliders.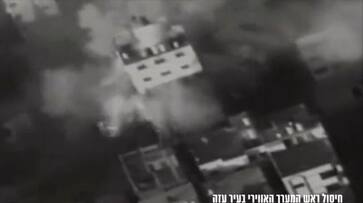 The Israel Defense Forces (IDF) has reported the successful elimination of a senior member of the Hamas terror group in a nighttime airstrike within the Gaza Strip. This precision strike targeted a Hamas headquarters overseeing their aerial activities and resulted in the demise of Murad Abu Murad, who held the position of head of Hamas's aerial division. The IDF said that Abu Murad played a substantial role in directing terrorists during the recent massacre, which included attackers who used hang gliders to infiltrate Israel.
In a separate series of extensive airstrikes conducted overnight, the IDF disclosed that it struck numerous sites affiliated with Hamas's commando forces, the same group that orchestrated the incursion into Israel on October 7. Simultaneously, the IDF has issued warnings to residents of the northern Gaza Strip, advising them to relocate to the southern region via designated evacuation corridors between 10 a.m. and 4 p.m. local time.
The IDF message in Arabic emphasizes the importance of self-preservation, urging residents to follow the provided instructions. It also underscores that Hamas leaders have taken protective measures and sought shelter from impending strikes.
Furthermore, the IDF has formally communicated with the United Nations, notifying them of the need for the entire Palestinian population residing north of Wadi Gaza to consider moving to the southern part of the Strip. This message has raised concerns that the IDF may be preparing for a ground invasion following a week of extensive aerial bombardments in response to a major Hamas offensive that resulted in the loss of 1,300 lives, predominantly civilians.
As a result of the heavy Israeli bombardments in retaliation for the Hamas attack, over 423,000 individuals have been displaced from their homes in the Gaza Strip, as reported by the United Nations. This number has now surged to over 420,000 people who have had to leave their residences due to the ongoing hostilities.
The UN humanitarian agency OCHA has highlighted the relentless Israeli bombardments across different fronts, including air, sea, and land. This sustained assault has resulted in the destruction of multiple residential buildings situated in densely populated areas within the past 24 hours.
Last Updated Oct 14, 2023, 12:10 PM IST