Hong Kong Police lay siege to polytechnic campus after overnight violence
Riots and clashes between police and protesters turned violent in Hong Kong, protesters aimed lethal weapons at officers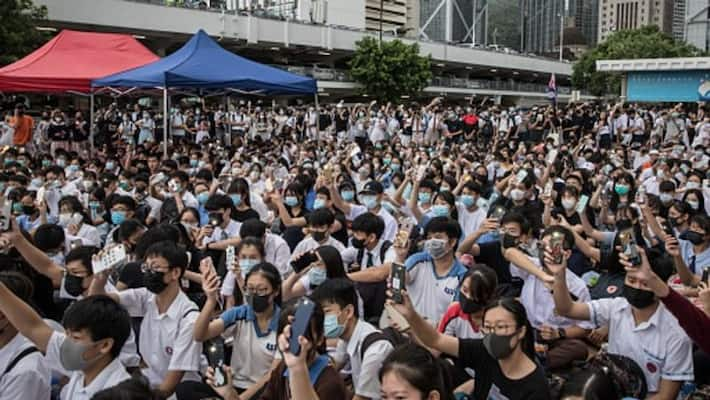 Hong Kong: Hong Kong Police broke through the barricades of a besieged university campus on Monday afternoon to arrest those cornered inside, after chaotic scenes overnight and a pre-dawn attempt by police to storm the site.
The push came after protesters on the Polytechnic University campus emerged in force to a barrage of tear gas after police who had blocked all ways out of the area.
 
Riot squads cordoned off the campus after they attempted to storm the site shortly before dawn. Some protesters tried to escape then but were forced to retreat with tear gas. Reuters reported that hundreds remained inside the campus, according to Al Jazeera. The police have made a large number of arrests.
Earlier, a police officer who was confirmed as a media liaison officer was hit in the leg by an arrow and was rushed to hospital. Photos on the department's Facebook page showed the arrow sticking out of the back of the officer's lower leg through his trousers.
In a statement on Monday, police warned people to stop using lethal weapons to attack officers and to halt other acts of violence, saying officers would respond with force and live bullets if necessary.
"Rioters continue to launch hard objects and petrol bombs with large catapults at police officers," Hong Kong police said. "The shooting range of such large catapults can reach up to 40 metres ... Police warn that the violent activities in the Hong Kong Polytechnic University have escalated to rioting."
Elsewhere in the city, black-clad protesters roamed streets around popular tourist areas of Kowloon and some of them were armed with petrol bombs.
Others dug up paving slabs and used bricks to block roads, some chanting: "Liberate HK, revolution of our time."
In the centre province, home to corporate headquarters and designer shops, office workers also came out onto the streets in support of the protests.
The protests began in early June with mass marches triggered by a proposed extradition bill that would have allowed people to be sent to mainland China for trial.
Although the proposed law has now been withdrawn, public anger has been fuelled by the authorities' refusal to address protesters' demands for an independent inquiry into alleged police brutality. An amnesty for those charged with offences stemming from the protests; a retraction of police claims that protesters are guilty of rioting; and giving Hong Kong people the right to elect the entire legislature as well as the chief executive.
The surge in violence over the past week has severely disrupted life in Hong Kong with the closure of the Cross-Harbour Tunnel next to the Polytechnic University and train services suspended. Schools have also been shut down.
Last Updated Nov 18, 2019, 3:23 PM IST