Hezbollah war with Israel would be 'mistake of its life', says PM Netanyahu to Israeli troops (WATCH)
Hezbollah will make "the mistake of its life" if it starts a war with Israel, Prime Minister Benjamin Netanyahu told Israeli troops in northern Israel on Sunday.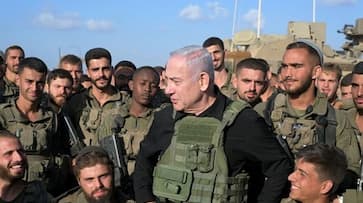 Israeli Prime Minister Benjamin Netanyahu delivered a stern warning to Hezbollah on Sunday, cautioning the Lebanese Islamist movement against initiating a conflict with Israel. During his visit to Israeli troops in northern Israel, near the Lebanon border, Netanyahu emphasised the severe consequences that Hezbollah would face if it were to provoke a war.
Also read: Inside Hamas' tunnels in Gaza: Viral videos reveal underground challenge for Israeli forces (WATCH)
Netanyahu's words underscore the high stakes and tensions in the region. He asserted, "If Hezbollah decides to enter the war, it will be missing the 2nd Lebanon War. It will make the mistake of its life. We will hit it with [with a level of] force it cannot even imagine, and the result for it and for the state of Lebanon will be devastating." This strong message serves as a clear and unambiguous deterrent against any aggressive actions by Hezbollah.
The ongoing confrontation between Israel and Hezbollah has been a longstanding concern, and both sides have maintained a state of readiness. While conflicts have periodically flared up, neither party appears eager to escalate the situation further. However, the recent warning from the Israeli Prime Minister highlights the gravity of the situation and Israel's determination to protect its security and sovereignty.
Hezbollah, a Shiite political and military organisation in Lebanon, has had a significant presence in the region for decades. It has maintained both political influence and a formidable military apparatus, which has contributed to regional instability. The group's ties to Iran and its involvement in Syria have raised alarms in Israel and among its allies.
Also read: Hamas, Islamic Jihad terror cell in Jenin mosque was a 'ticking time bomb': Israel after West Bank airstrike
Israel has reported fresh anti-tank missile attacks from Lebanon, coupled with the interception of a drone, intensifying tensions in the region. The Israeli military has issued a stark warning to Hezbollah, accusing the group of engaging in a perilous game that risks dragging Lebanon into a destructive conflict with little to gain and much to lose.
In response to these security concerns, over 60,000 individuals in Israel, including Kiryat Shmona, the largest city in the border region, have been evacuated according to the Israeli Ministry of Defense, underscoring the serious and immediate threats faced by communities along the border.
Netanyahu's warning to Hezbollah comes even as Israel gears up for a ground invasion into Gaza against Hamas terrorist organisation. Gaza war is "do or die" for Israel, the Israeli PM told troops as its military battles Hamas, following the group's deadly attacks on southern Israel on October 7. 
Last Updated Oct 22, 2023, 7:45 PM IST