Here's how Elon Musk reacted to Chandrayaan-3's budget being less than Interstellar
The cost of India's Chandrayaan-3 lunar mission stood at Rs 615 crore ($75 million) in 2020 - less than half the budget of the Hollywood film Interstellar. Here's how Elon Musk reacted to the news.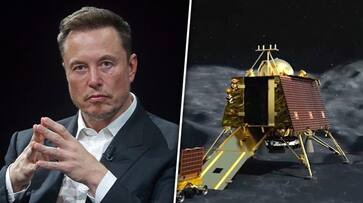 SpaceX boss Elon Musk has applauded India's Chandrayaan-3 moon mission budget of $75 million, comparing to Hollywood SciFi movie Interstellar's $165 million production cost, in response to a tweet.  
"Kinda crazy when you realize India's budget for Chandrayaan-3 ($75M) is less than the film Interstellar ($165M)," reads a post by Newsthink on X. Musk praised India in his reply to the post. The billionaire tweeted, "Good for India," concluding with an emoji of the Indian tricolour.
Also Read | History is made! Chandrayaan-3 successfully lands on Moon's South Pole
The reply received over 60,000 views, and the numbers are quickly increasing.  In contrast, Christopher Nolan's epic Interstellar, with Matthew McConaughey in the lead, is a movie about space adventure. The film was made with a total budget of $165 million.
India's Chandrayaan-3 has made history by becoming the first nation to successfully complete a soft landing on the Moon's south pole. The historic event took place on August 23, 2023, at 6:04 IST.
Chandrayaan-3 includes a 2-metre tall lander designed to deploy a rover near the lunar south pole where it is expected to remain functional for two weeks running a series of experiments. Chandrayaan-3's development phase commenced in January 2020, with the launch planned sometime in 2021.
Chandrayaan-3's main objectives include studying the lunar surface, determining the makeup of the soil, and examining the geography of the moon. It is intended that the mission will offer important details on the Moon's geological past and potential resources. 
Over 9.1 million people watched Chandrayaan-3's moon landing LIVE online; lauded historic moment
Last Updated Aug 23, 2023, 8:28 PM IST