Former Jordanian minister's shocker: Will conquer Spain, Rome; America and Europe will come to an end (WATCH)
Amid the ongoing Israel-Hamas war in Gaza, former Jordanian Minister Ali Al-Faqir issued a veiled threat to the United States and Europe and also vowed to conquer Spain and Rome.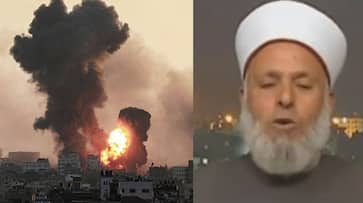 In the midst of the ongoing Israel-Hamas war, former Jordanian Minister Ali Al-Faqir delivered an address threatening the end of America and Europe, while vowing to conquer Spain and Rome. Al-Faqir began his address by making a bold declaration: "Palestine from the Jordan (River) to the (Mediterranean) Sea is an Islamic land."
This assertion underscores the deeply rooted religious and historical connections to the region and the sentiments it evokes among many in the Muslim world. The issue of land ownership and its religious and cultural significance has been a central point of contention in the Israeli-Palestinian conflict for decades.
Also read: Hezbollah's veiled threat to US: Halt Israel's Gaza attack to prevent regional war, warns Nasrallah (WATCH)
Furthermore, Al-Faqir extended his perspective to Spain, referring to Andalusia as "the land of Islam." This historical reference alludes to the period of Islamic rule in Spain during the Middle Ages. "Spain - Andalusia - is also the land of Islam. Islam lands that were occupied by the enemies will once again become Islamic," he said.
Perhaps the most striking part of Al-Faqir's address was the notion of expansion. He proclaimed, "Furthermore we will reach beyond these countries, which were lost at one point. We proclaim that we will conquer Rome, like Constantinople was conquered once, and as it will be conquered again. Allah willing we will rule the world, as has been said by the Prophet Muhammad."
This declaration draws parallels to historic events, such as the fall of Constantinople to the Ottoman Empire in 1453. It suggests an ambition for the expansion of Islamic influence and control.
Also read: 'They're like Victoria's Secret models': Islamic scholar attacks Israel's 'innocent victims' narrative (WATCH)
Al-Faqir highlighted the ongoing conflict in the region, referencing its beginnings in places like Palestine, Iraq, Afghanistan, and Chechnya. He asserted that what has started will not stop, and this battlefront will only grow broader and stronger.
"We will face a battlefront that is broader and stronger. Its beginnings were in Palestine, in Iraq, in Afghanistan, and in Chechya. What has begun will be completed. It will not stop," he warned.
The former Jordanian Minister also spoke of the decline of existing powers. He noted that the Zionist entity (Israel) had reached its peak and was beginning to wane. He made similar comments about the United States and the European Union.
"The Zionist entity reached completion, and it is the beginning to decline until it will wane and come to its end," he said. "Similarly, America has occupied, thundered, and foamed with rage, and proclaimed, like Pharoah, "I am your supreme God," but it will come to its end. They have begun to realise that their end is near. We have begun to read in American and Eurpean newspapers that "our glory is on the wane, and there is nothing to do about it."
"This morning on Al-Jazeera TV, I saw American scientists and strategic theoriticians, who said that America would soon come to its end. They said it before about the USSR and, indeed, it has come to its end. We say now that America and the EU will come to an end and only the rising force of Islam will prevail," Al-Faqir said in a veiled threat.
Last Updated Nov 3, 2023, 9:53 PM IST