First glimpse: Elon Musk photographed with his 'secret' twins in Austin; see pics
Elon Musk's first public photograph with his twins and their mother, Shivon Zilis, taken at Zilis' home in Austin, Texas, and shared by Walter Isaacson, offers insights into Musk's family life.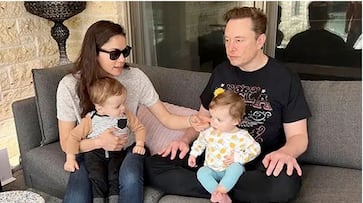 Elon Musk, CEO of various ventures, was recently captured in a photograph alongside his twins and their mother, Shivon Zilis. Zilis is employed at Musk's company Neuralink, which focuses on brain-chip technology. The photograph, originally shared by Walter Isaacson, the author of Musk's biography, was posted on X, formerly known as Twitter.
In the picture, Elon Musk can be seen seated cross-legged on a couch, cradling one of the twins who was 16 months old at the time. Meanwhile, the other infant is being held by Zilis. This intimate moment was captured at Zilis' residence in Austin, Texas. Walter Isaacson unveiled the photograph last Wednesday.
Another photo from the same occasion depicts one of the twins reaching out to touch a life-size robot, with Musk leaning over to observe.
The names of the twins have never been disclosed publicly. According to court documents, Zilis, a venture capitalist originally from Canada, gave birth to Musk's eighth and ninth children in November 2021 through IVF, just a few days before Musk welcomed his second child with Canadian singer Grimes.
Isaacson revealed that Musk had expressed a desire to meet at Zilis' home for a conversation in March. During their meeting, Musk suggested leaving their phones indoors to prevent eavesdropping, but he eventually allowed Isaacson to include his thoughts on artificial intelligence (AI) in his biography.
Isaacson shared his impressions of the encounter, describing the unusual juxtaposition of the serene suburban setting by a backyard swimming pool on a sunny spring day, where two lively twins were learning to walk, while Musk discussed the urgency of establishing a sustainable human colony on Mars before an AI apocalypse threatened civilization, as recounted in his biography excerpt published in Time magazine.
Contrary to speculation, a Reuters report stated that Zilis informed her colleagues that she and Musk never had a sexual or romantic relationship.
Last Updated Sep 7, 2023, 9:28 PM IST