'Elon isn't serious, time to move on': Mark Zuckerberg calls off cage fight with Tesla CEO
Public rivalry between Musk, 52, and Zuckerberg, 39, intensified after the initial success of Meta's Threads. Mark Zuckerberg said it's "time to move on" from speculation that there will be a cage fight match between him and Elon Musk.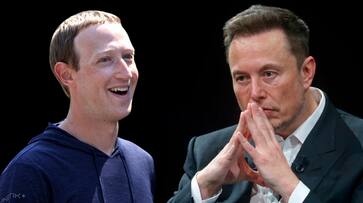 Mark Zuckerberg, CEO of Meta Platforms Inc., said that it is "time to move on" from rumours that he and Elon Musk will engage in a cage match. The two billionaire tech rivals had seemingly agreed to the fight in June when Musk tweeted his willingness to participate. Zuckerberg responded to Musk's tweet by asking for the location.
Taking to social media platform, Threads, Zuckerberg said, "I believe we can all agree that Elon isn't actually serious about this, and it's time to let it go. I proposed a genuine date, and Dana White (the UFC boss) even offered to turn this into a legitimate charity event."
Also Read | Elon Musk vs Mark Zuckerberg 'cage fight': Tech giants gear up for ancient Rome showdown, live stream details
After the first success of Meta's Threads social networking platform in July, competition between Musk, 52, and Zuckerberg, 39, grew in the public eye. Within a week of its launch, Threads, which allows users to publish brief blurbs in a similar way as X, the Musk-owned network previously known as Twitter, had amassed 100 million members.
The richest man in the world, Musk, spent weeks hyping the likelihood of a confrontation between him and Zuckerberg. Then, this week, Musk said on Twitter that he will get an MRI of his neck and upper back, which could call for surgery.
Also Read | Revealed: The fighting style that Elon Musk will use in cage fight against Mark Zuckerberg
Musk had previously made a suggestion that the battle may take place in a famous Italian landmark. He talked about streaming choices, the event's historical setting, and even claimed to have spoken with Giorgia Meloni, the prime minister of Italy.
The mixed martial artist Zuckerberg described his experience competing in his first jiu-jitsu event earlier this year. Musk also talked about his preparation for the battle, which comprises weightlifting at his job because of time restrictions.
Also Read | Elon Musk: Fight with Mark Zuckerberg to be streamed live on X, proceeds to go to charity
Last Updated Aug 14, 2023, 9:02 AM IST