Driver shot and killed after crashing into Chinese consulate in San Francisco; WATCH dramatic viral video
A car rammed into the Chinese consulate in San Francisco on Monday, coming to a stop in the lobby and creating a chaotic scene that ended with police shooting the driver, who later died at the hospital, officials said.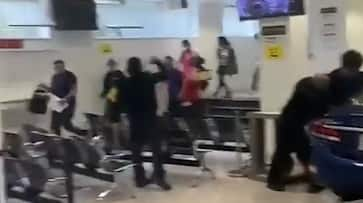 San Francisco police said they shot and killed a driver who crashed into the Chinese consulate. Official details of the incident were incomplete, and police said the identity of the motorist and what precipitated the crash were not yet known. 
The suspect was declared dead at the hospital despite efforts to save his life, according to the police.
At a news conference held hours later, Sgt. Kathryn Winters, a spokesperson for the San Francisco police department, said, "I don't know how many people were inside the visa office at the time of the collision."
"When police got on the scene, they discovered that the car had stopped inside the Chinese consulate's lobby. Officer-involved shooting took place after officers entered the scene and made contact with the subject," according to Winters. 
She added: "There's very little information that we can give at this time." Police were collaborating with investigators from the US State Department, she said.
After the event, the neighbourhood quickly became heavily policed, and the department issued a warning to the public to stay away. A car that had struck the structure was captured on television. A Honda sedan was seen crashed into the visa office and the area in front of the building was cordoned off.
An unidentified person "drove violently into the document hall of the consulate, posing a serious threat to the safety of the staff and people at the scene, and causing serious damage to the facilities and property of the consulate," according to a separate statement from the Chinese diplomatic post in San Francisco.
 
Last Updated Oct 10, 2023, 9:10 AM IST