Decoding Israel's Reserve Army and who can join the war against Hamas
Amid escalating tensions with Hamas, Israel has mobilized 300,000 reservists, preparing for potential ground operations in response to multiple attacks.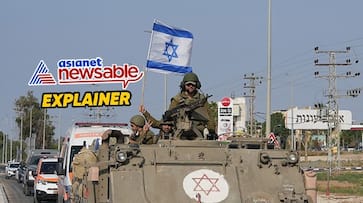 In response to a multi-pronged attack by Hamas, Israel has undertaken a significant mobilization effort, deploying 300,000 reservists to confront the ongoing crisis. Prime Minister Benjamin Netanyahu has expressed his determination to counter Hamas and reduce Gaza's capabilities. Israeli forces have been conducting relentless airstrikes on Gaza since the surprise attack on Saturday. Simultaneously, ground troops have engaged in fierce battles to retake border towns and villages seized by Hamas militants.
This massive mobilization indicates that Israel may be preparing for a ground invasion of Gaza, although official confirmation of such plans has not been provided by Israeli authorities.
Israel's Chief Military Spokesperson, Rear-Admiral Daniel Hagari, stated, "We are now carrying out searches in all of the communities and clearing the area. We have never drafted so many reservists on such a scale. We are going on the offensive."
Understanding the Israeli Army Reserve
In Israel, citizens over the age of 18, regardless of gender or ethnicity, are obligated to serve in the military during wartime. Both men and women must serve for a minimum of 24 to 32 months, with some exceptions for specific groups, such as religious women, married individuals, and those with disabilities.
Israel, being surrounded by potentially hostile nations with larger populations, has developed a system for rapidly mobilizing a substantial number of combat-ready troops during emergencies. Reservists are considered essential combat troops for major operations rather than supplementary forces.
Who Serves in the Army Reserve
The majority of Israeli citizens who complete their mandatory military service are required to participate in annual reserve duty. However, individuals who served in elite units, such as pilots, are encouraged to volunteer for additional reserve duty.
Reservists come from diverse backgrounds, including actors, journalists, and individuals from various professions. Prominent Israeli reporter Hananya Naftali, who joined 300,000 other reservists, emphasized that their deployment is to defend their homes and families.
"The reason we are deployed is not just to defend our borders, it's literally to defend our homes and families. This is a war between good and evil," Naftali posted on X, formerly known as Twitter.
Renowned Israeli actor Lior Raz, known for the TV series 'Fauda,' joined the volunteer group Brothers in Arms on the front lines of the conflict. He shared a video of himself witnessing a Hamas rocket attack on Israel.
The Israel Defense Force (IDF) shared images on social media of reservists bidding farewell to their families as they prepared to head to the frontlines. These poignant moments reflect the commitment of Israelis during times of crisis.
"This is only one father out of thousands of parents who have had to say goodbye to their children, as 300,000 Israelis report for reserve duty. The IDF and the people of Israel will stand strong and united in the face of any threat," the IDF shared with a photograph of a man bidding his child goodbye. 
Israel's military reserve system mandates that nearly all active-duty personnel transition to the reserves after completing their regular service, ensuring a robust and agile response to emerging threats and crises.
Last Updated Oct 10, 2023, 12:59 PM IST