Deciphering 'Iron Sting': Israel's game-changing weapon against Hamas
The article discusses the introduction and advantages of the 'Iron Sting,' a precision-guided mortar system used by the Israel Defence Forces in their conflict with Hamas, highlighting its potential impact on ground warfare in densely populated areas.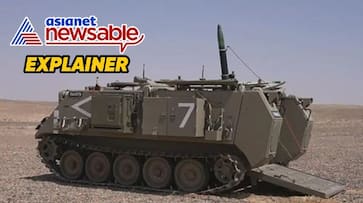 On October 22, 2023, the Israel Defence Forces (IDF) introduced a groundbreaking development in its arsenal, known as the 'Iron Sting.' This innovative weapon is a 120 mm guided mortar system created by Elbit Systems of Israel. In its inaugural use, the IDF fired multiple rounds of the 'Iron Sting' at Hamas targets in the Gaza Strip. The IDF touted its performance, claiming "unprecedented accuracy" and describing it as a "game changer" in the ongoing conflict with Hamas.
Precision and Minimized Collateral Damage
The 'Iron Sting' stands out due to its precision-guided capabilities, a stark contrast to traditional mortar rounds that often carry a margin of error. This precision allows the IDF to target specific enemy positions and assets with a higher degree of accuracy. In areas like Gaza, which are densely populated and where Hamas frequently operates within civilian areas, this accuracy can significantly reduce the risk of unintended civilian casualties and infrastructure damage.
Also read: Israel-Hamas War Exclusive: 'Israelis were slaughtered... this is a crime against humanity'
Cost-Effective Operations
While precision-guided munitions are generally more expensive than their conventional counterparts, they offer cost-effectiveness in the long run. The 'Iron Sting' requires fewer rounds to achieve the desired effect, leading to reduced ammunition expenditure, which can be advantageous in prolonged conflicts.
Deterrence and Psychological Impact
The introduction of such an advanced weapon system can serve as a deterrent, dissuading adversaries from certain actions or positioning their assets in specific locations. The knowledge that the IDF possesses a highly accurate weapon can also have a psychological impact on opposing forces, potentially diminishing morale and creating uncertainty, which could influence operational decisions.
Also read: Israel-Hamas War Exclusive: '9/11, 26/11, Tsunami... but this was the worst brutality I ever saw in my life'
Operational Flexibility
The precision of the 'Iron Sting' provides the IDF with increased operational flexibility. They can choose to target specific assets or commanders without causing widespread damage, allowing for more tailored military responses.
However, it is crucial to understand that, while the 'Iron Sting' brings significant advantages to specific military engagements, it cannot serve as a singular solution to the broader and complex Israel-Hamas conflict.
In the context of the ongoing conflict, the IDF has launched multiple air raids in response to a significant attack by Hamas on October 7. The conflict has resulted in a tragic loss of lives on both sides, with a substantial number of civilians affected. While the IDF has indicated readiness for a possible ground incursion into Gaza, such an operation has not yet commenced.
Also read: Israel-Hamas War Report: The story of Hamas savagery at Kibbutz Be'eri
Last Updated Oct 23, 2023, 9:01 PM IST