Coronavirus: America's Boston Globe newspaper prints 16 pages of obituaries; netizens share images
Netizens shared images of Boston Globe newspaper in the US as it printed 16 pages of obituaries on Sunday (April 19). US is one of the worst-hit countries due to the coronavirus (COVID-19)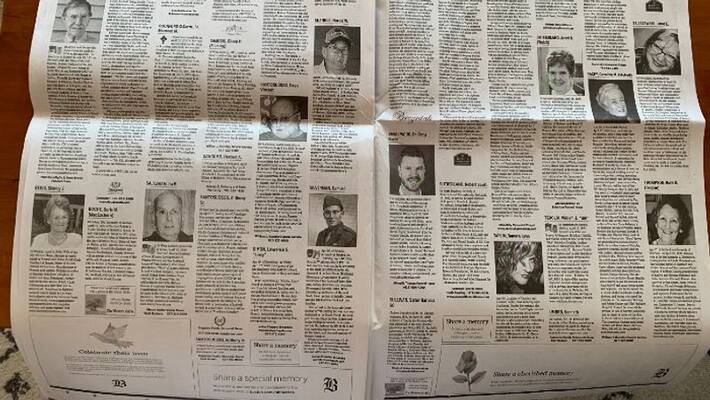 Boston: A newspaper in the US reminded people of the existing tough times in the country due to the coronavirus (COVID-19) pandemic when it printed 16 pages of obituary section on Sunday (April 19).
Boston Globe's Sunday edition featured death notices spread across 16 pages, leaving netizens terrified.
Watch: Doctors honour cab driver with surprise cheque, claps
US is one of the worst-hit countries due to the virus and Massachusetts has seen over 1,700 deaths and more than 38,000 cases reported, as on April 19. Boston is the capital of Massachusetts.
Also read: This country recommends hugging during coroanvirus crisis
"The death notices, which ran from pages A-13 to A-28, included the names of people from all over Massachusetts, as well as Connecticut, Rhode Island, Maine, New Hampshire, California, Florida, Maryland, Michigan, New Jersey, New York, North Carolina, Pennsylvania, South Carolina, and Texas. Overseas deaths in Austria, Greece, Ireland, and Italy were also noted, as well as Canada," Boston Globe said on its website.
A Twitter user wrote with the images of the newspaper and a video, "a month ago a video from Bergamo Italy showed page after page of obituaries ... Boston Globe Obituaries April 19, 2020 15 Pages. and we are not yet at the point on the curve that Bergamo was when the video was made."
Another user too shared a picture of the newspaper and said, "15 pages of obituaries in The Boston Globe today."
"There are 16 full pages of death notices in today's paper Globe. Last week, there were 12. Before that, I don't think I'd ever seen more than 4 or 5. Please continue to #stayhome if you can. #StayHomeSaveLives (sic)," another user wrote.
Meanwhile, Boston city's government website said, "There are strict new measures in place for social and physical distancing for Boston residents through Monday, May 4, 2020, including encouraging everyone to wear a face covering in public."
On Saturday (April 18), Boston mayor Martin J Walsh announced the launch of "Good Neighbors", a free platform that connects older, at-risk individuals with volunteers in their community to fulfill basic needs, including door-step deliveries.
"We are seeing the best of Boston with residents looking for ways to volunteer and support those in need. This new volunteer platform will help organise and activate volunteers looking to help seniors who need things like groceries, medication, or just a good old fashioned phone call check-in," Walsh said.
Last Updated Apr 20, 2020, 1:28 PM IST