China's coronavirus predicted in Dean Koontz's 1981 novel leaves netizens baffled
This book published in 1981 eerily 'predicts' the coronavirus outbreak in 2020 and we are shocked!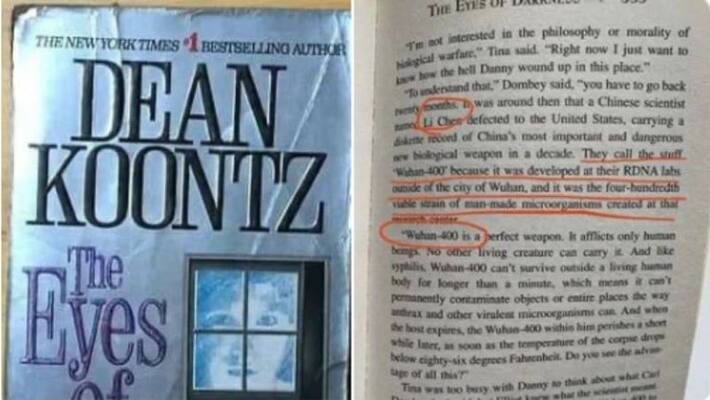 New Delhi: As the deadly virus that has left the entire world concerned has killed over 1,700 people across the world, Twitter users have pointed out that in the 1981 novel, The Eyes of the Darkness, there is a disease called "Wuhan-400".
The American author Dean Koontz eerily predicted the coronavirus outbreak that the world is currently facing in 2020 in his 1981 thriller The Eyes of Darkness.
Koontz writes about a virus developed in military labs near the city of Wuhan by the Chinese Communist Party (CCP) as a biological weapon, reported Liberty Times.
In the novel, the virus is called the "perfect weapon" because it only affects humans. It also cannot survive outside the human body for more than a minute and does not require an expensive decontamination process once it spreads through a population and those who contract it.
The American author, Dean Koontz, writes about a mother, Christina Evans, who goes on a journey to find out if her son Danny is still alive or if he died during a camping trip. She then manages to track him down to a military facility where he is being kept after he was accidentally infected with a man-made microorganism created at the research centre in Wuhan.
The similarities between the manmade virus and the Wuhan virus has got Twitter users struggling to comprehend the improbable coincidence. One big difference is that, Wuhan-400 has a 100% death rate, while the Wuhan virus (coronavirus) does not.
Some people were sceptical about Koontz's prediction 39 years ago, however, pointing out that earlier editions of the book refer to the virus as Gorki-400, a production of the Soviet Union. In response, several netizens have posted pictures of the book's newer editions to explain the name of the virus was indeed altered, possibly due to the end of the Cold War in 1991, reported SET News.
Last Updated Feb 17, 2020, 4:23 PM IST